London: Portrait of a City exhibition
The millions of images of the capital in the collections at London Metropolitan Archives are testament to the allure of London as a subject for artists - its buildings, traditions and its people.
London : Portrait of a City delves into archives to explore the formats chosen by artists and surveyors since the eleventh century to create their representations of the capital. From simple wax seals to intricate engravings; elegant watercolours to digital prints, the exhibition reveals the visual history of one of the great cities of the world.
Image making techniques on display include etching, linocut, mezzotint and screenprint, and records of the city are captured on film and audio formats, and presented on souvenirs and objects.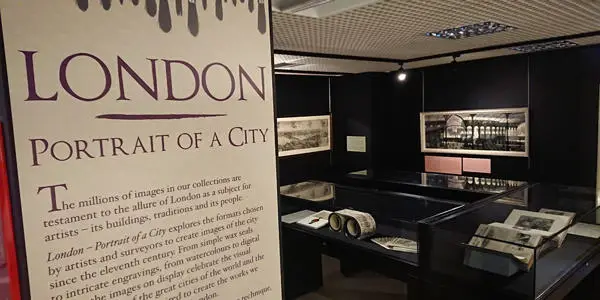 London : Portrait of a City includes a not to be missed opportunity to view the amazing panorama of London by Wenceslaus Hollar, published in 1647. At more than two metres long, it presents us with London as seen from Southwark Cathedral, giving a detailed depiction of the city as it was nearly 400 years ago.
The images displayed are just a small selection of the millions of photographs, prints and drawings of London waiting to be discovered in our collections. Whether you're inspired to create your own artwork, or you'd just like to see more, our Mediatheque is a great place to delve further into the visual history of the capital.