Camberwell Flats by Night
Date updated: 25/05/2022
Conservation of 'Camberwell Flats by Night' by David Hepher
'Camberwell Flats by Night' 1983 by David Hepher was acquired by the Guildhall Art Gallery in March 2022. Prior to its display in the London Gallery, conservation treatment was carried out by paintings conservator Luz Vanasco during her postgraduate internship.
David Hepher (b.1935, Surrey) is best known for his paintings of buildings, mainly tower blocks, which he refers to as "urban landscapes".
"I think of myself as a landscape painter; I live in the city, so I paint the urban landscape."
'Camberwell Flats' is part of a series of paintings, two of which can be found at the Museum of London and another at the Middlesborough Institute of Modern Art. They reflect Hepher's sustained focus on residential architecture, and details of ordinary, everyday life, sometimes pushing it to the brink of abstraction.
Technical Aspects
'Camberwell Flats by Night' is an oil painting on canvas. The canvas is made by two vertical cotton duck pieces, with a seam that runs along the right-hand building. Whether his was the original format or a later extension by the artist is part of the technical research still being carried out at the Conservation department.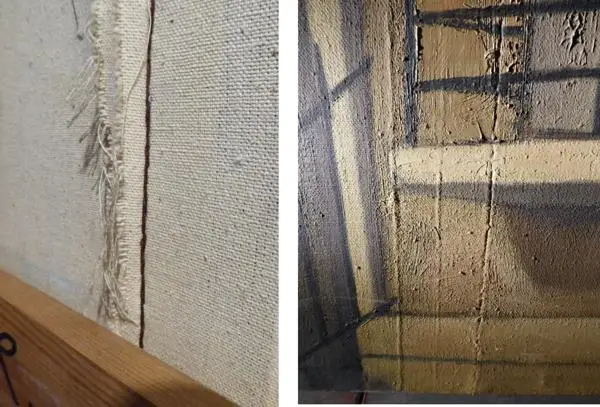 The paint layer is oil paint that has been generally very thickly applied and has a very varied gloss and surface texture over a grey priming layer. The final image is built up from numerous successive paint layers, where each element of the composition has been overpainted rather than painted within a reserve.
The painting is not varnished and does not have a uniform surface gloss. The smoother and flatter passages of paint are generally lean in composition and matte in appearance. The glossier areas generally correspond to more thickly applied, medium rich paint passages.
The painting surface exhibits a very varied texture relating specifically to different elements of the composition. A pallet knife has been used to apply the smoother passages of paint, and stiff brushes have been used for both flat and impasted passages. In some areas of the building's walls a wide toothed comb tool has been used to create a pattern of regular vertical channels in the impasted paint.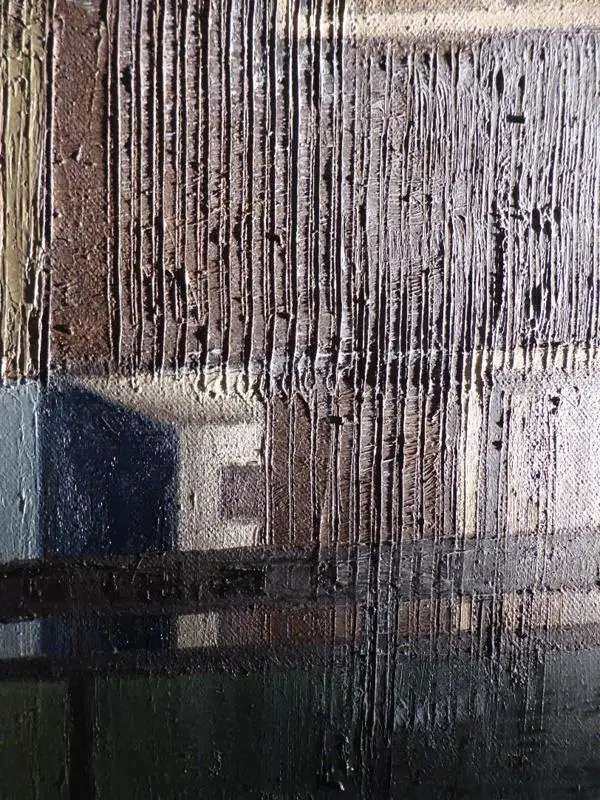 Conservation
Even though the painting was in a good overall condition, it was exhibiting some white discolouration in several areas across the surface. This white surface bloom seems to correspond with dark and thicker passages the composition. This phenomenon, called efflorescence, is often found in 20th century paint films and it is probably related to the composition of commercially manufactured paints, where mobile components of the paint migrate to the surface, producing the white discolouration.
After conducting several tests, the safe removal of the white efflorescence was carried out by combining different cleaning methods, depending on the area.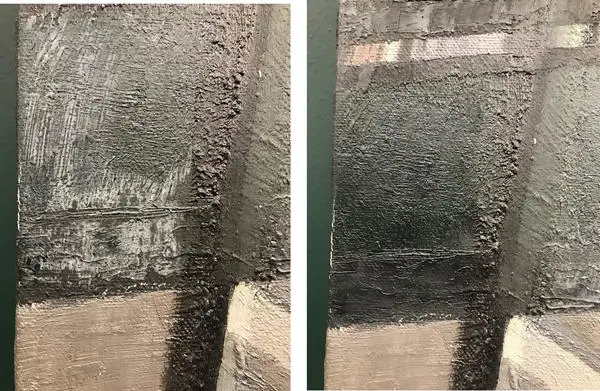 After the successful cleaning, the painting can now be fully appreciated and enjoyed by the public at the Guildhall Art Gallery.