Date updated: 10/04/2021
Guildhall Art Gallery is open.
Guildhall Art Gallery is taking part in the Association of Leading Visitor Attractions Visitor Recovery Benchmarking programme. It covers a range of topics from the availability of hand sanitiser to the maintaining of distancing measures. Since re-opening in June 2021, our comprehensive COVID-secure measures have received an average rating of 9.2 out of 10 from this survey of over 330 visitors.
Please read on to find out about the measures we are keeping in place to ensure that we offer a safe and enjoyable experience for everyone.
We will continue to monitor advice about COVID-19 and may change the measures listed here from time to time in accordance with that advice.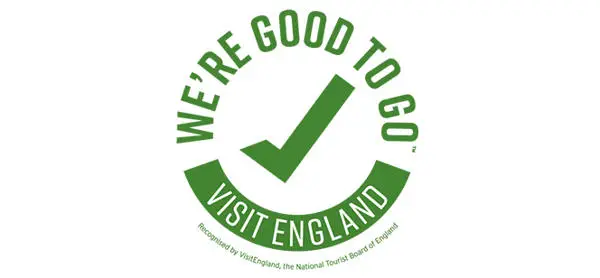 We want your visit to Guildhall Art Gallery to be a safe and enjoyable experience. Please note the following:
Pre-booked tickets are compulsory for entry to Guildhall Art Gallery, which includes London's Roman Amphitheatre and the City of London Heritage Gallery. Book online.
Opening times are 10.30am - 4pm (last entry 3pm) daily.
We are asking visitors to wear a face covering in the Gallery.
You should not visit if you think you have COVID-19 symptoms or if you have recently been in contact with someone who has COVID-19. If you are no longer able to visit, please email us as soon as possible to transfer your booking.
Toilet facilities and hand sanitiser stations are available.
Please follow all guidance given by team members.
We welcome families and ask household groups to stay together where possible.
We are ready to welcome you back, and have implemented new measures to ensure that this is done in a safe and responsible way.
Our ticketing system limits the number of visitors in the gallery at any one time and a one-way route round the Gallery makes it easier to maintain physical distancing.
The Gallery is deep-cleaned by trained specialists every day before we open. Our cleansing team cleans the toilet facilities at regular intervals, and high frequency touchpoints such as door handles and handrails are also cleaned throughout the day.
We encourage all visitors to use the hand sanitiser stations available on entering and at key points inside the Gallery. You should also consider bringing your own hand sanitiser and tissues.
Our team members at the Welcome Desk are behind a screen, to help protect you and them. Personal Protective Equipment has been made available to our team members if they wish to wear it.
We are asking visitors to wear a face covering in the Gallery.
If you begin to feel unwell during your visit, please let a member of staff know.
If team members see that guidance is not being followed, we will ask visitors to leave or close the Gallery.
We are collecting certain contact details and storing them for 21 days. We will only share them with NHS Test and Trace, if asked, in the event of a fellow visitor testing positive for COVID-19. There are QR codes on site, which you can use to check in on the NHS COVID-19 App.
You must pre-book tickets, including free tickets for General Admission, for a specific date and time (subject to availability).
You will not be permitted to enter without a valid pre-booked ticket.
Please call us only if you're not able to make a booking online: 020 7332 3700. You may have to leave a message, but we will get back to you as soon as we can.
We have introduced a one-way route around the main Gallery, Heritage Gallery and London's Roman Amphitheatre.
On this route you will see some of our most famous Victorian artworks, the temporary exhibition 'Wampum: Stories from the Shells of Native America', the newly-refreshed Undercroft Gallery and unique Roman remains.
Downloading Smartify  before you visit will help you get the most out of your visit.
Toilet and baby changing facilities are available.
Please bring a £1 coin (refundable) if you wish to use a locker as the Gallery shop does not have change. Please only bring essential items as we have limited space and can't store large bags.
The Gallery is fully accessible and our lifts will be reserved for those who require them.
Folding stools will be available from the Welcome Desk for visitors who would like to take a seat. Please return these to the Welcome Desk at the end of your visit for cleaning.
Food and drink, except for bottled water, cannot be consumed in the Gallery. We regret that there will be no drinking fountains available.
Our shop will be accepting card and contactless payments. We will not be able to accept cash payments. A range of merchandise and limited cold drinks will be available to purchase.
You can buy some of our best-selling products on our webshop.
Please check government and Transport for London guidance regarding travel and use of face coverings on public transport. We encourage you to walk or cycle if possible. Cycle parking is available by the Guildhall West Wing.
The entrance to the Gallery is in Guildhall Yard, which you can access via Basinghall Street or Gresham Street. Please look for signage directing visitors to the appropriate routes.
You may be asked to queue outside the Gallery. Markings will help you maintain physical distancing and you will be told when it is safe to enter the Gallery.
Our usual bag-checking will take place. Please have your bags ready for inspection.
Your ticket(s) will be checked by our Welcome Team. Please have your booking confirmation and any memberships ready.
You can download the Guildhall Art Gallery and London's Roman Amphitheatre Floor Plan prior to your visit.
Guildhall Art Gallery Floor Plan PDF (790KB)
Date submitted: 3/26/21
Checklist for your visit
Plan your journey
Pre-book your tickets
Ensure that you are healthy to visit
Wear a face covering inside the Gallery
Use the hand sanitiser provided or bring your own
Maintain physical distancing where possible
Ask a team member if you have any questions
Enjoy your visit!