Date created: 6/19/2020
Family activities
Guildhall Art Gallery is currently open from Friday to Sunday 10.30am – 5pm, and as ever, we are welcoming families. You will need to book in advance to attend, but tickets are free. We have created a family trail to help you around the one-way system, which you can collect from the front desk on arrival. See new safety measures and visitor information before visiting.
As it is not possible to hold our monthly Second Saturday events in person, we are continuing them online. On the second Saturday of each month we publish a new set of activities for you and your family to engage with the collection, special exhibitions and London's Roman Amphitheatre from home. Activities will always be possible with the things you already have at home. For additional family content, join our mailing list by emailing the Learning Team at Guildhall Art Gallery.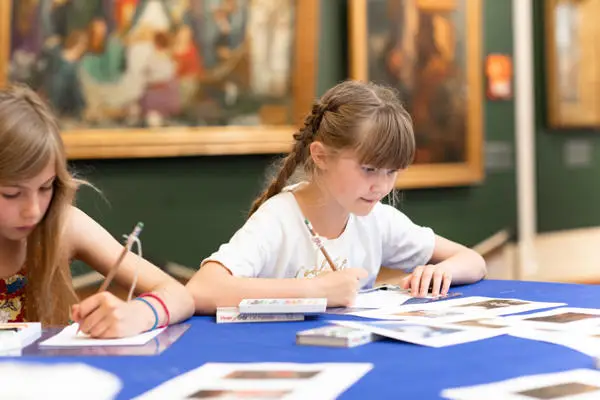 New activities for September
This month we're inviting you to take part in Wild City. Nature surrounds us, even in urban centres like London. Guildhall Art Gallery, The Salters' Company and Barbican Children's Library have put together a whole day's worth of activities to help you connect with nature.
More Second Saturday activities will be published on
10 October
14 November
12 December
Other family activities to do from home
Make Your Own Hat Activity Pack PDF (1MB)
Date submitted: 7/07/20
Create and colour your own hats inspired by William Logsdail's The Ninth of November, 1888. Best for children 3yrs+.
Roman Food Activity Pack PDF (200KB)
Date submitted: 7/09/20
Learn more about what the Romans ate through amazing food facts, word search and drawing activity. Designed for children 7-11yrs.
Architecture of London Activity Pack PDF (1MB)
Date submitted: 7/07/20
Explore London's architecture through artworks at the Guildhall Art Gallery. Designed for children 8-13yrs.
Roman Architecture Activity Pack PDF (300KB)
Date submitted: 7/07/20
Learn about Roman architecture through word puzzles, creating a Roman temple and more. Designed for children 7-11yrs.
Roman Emperors and Empresses Activity Pack PDF (700KB)
Date submitted: 7/09/20
Who were the Emperors and Empresses of the Roman Empire? Learn more about them through these fun activities. Designed for children 7-11yrs.
The Enchanted Interior Activity Pack PDF (4MB)
Date submitted: 7/08/20
Families can enjoy The Enchanted Interior exhibition from home with our art activity pack. Explore the themes of the exhibition, including decorative interiors, women's rights, and the links between past and present.
Best for children 8-13yrs.