Fanny Brawne's letters to Fanny Keats, Summer 1822
Date updated: 27/07/2022
Before he parted from Fanny Brawne and left Wentworth Place, Keats asked her to write to his sister, Fanny Keats. They began a correspondence of 31 letters over a four-year period.
Keats House are publishing the letters from Fanny Brawne to Fanny Keats online on the 200th anniversary of them being written. This project reveals the lives of two women living in London in the 1820s. See 'Related links' to read other letters and an article on how these came to be in the Keats House collection.
The letter
This letter is not dated, but is full of details about dressmaking and fashion. Fanny mentions several materials, grey silk, 'clear' and 'coarse' muslin, 'crepe lisse' (a 'fine, thin, silk material'), 'sattin' (satin), and lace. Mrs Morgan was Mary Morgan, a milliner and dressmaker, who had premises in St. James's Place in London. Fanny ends with news about her pigeons Primrose, Mary and Trutken. This helps to date the letter as written after the letter of 7/8 May, in which pigeons were mentioned for the first time. The name 'Trutken' may be from German.
My dear Fanny
I am a bad person to refer to, because you know my extravagance, but I really think over economy the most expensive thing there is, if you have a body to your grey silk you cannot get it made under a guinea or perhaps 25 shillings and it will be of very little use to you afterwards as short sleeves &c are not much worn out of full dress particularly to you who are not much in the habit of seeing company, not that I would advise you to have a new dress if you cannot get it for 30 shillings but I suppose you might have a clear muslin for that money, I mention clear muslin because a silk petticoat would not be necessary, as I know many who wear them without, and I dont think there is any difference in the appearance, gowns are made quite plain so that there is very little expense as to trimming. I have seen some made in crepe lisse that would do very well for a pattern for muslin; with two folds of the same stuff as the gown, one straight round the bottom, forming the hem, the other brought to a point in front (on one side) and finished with a flower, in this manner –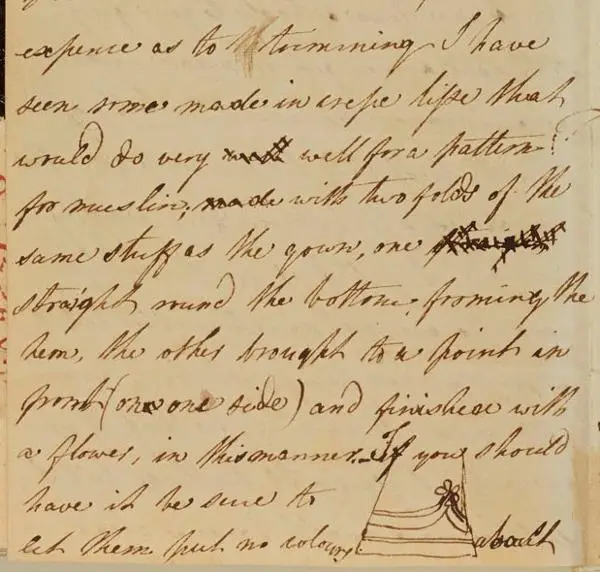 If you should have it be sure to let them put no colours about the gown, nothing but white, indeed I do not like any sattin at all, the bands of course will be put in with small cords covered with muslin: as to the body I saw one the other day at Mrs Morgans made for a dance quite plain as to trimming something like the make of my red and black, but lower round the throat and confined at the shoulders in three bands so as to let the fulness go over the shoulders as well as in the front.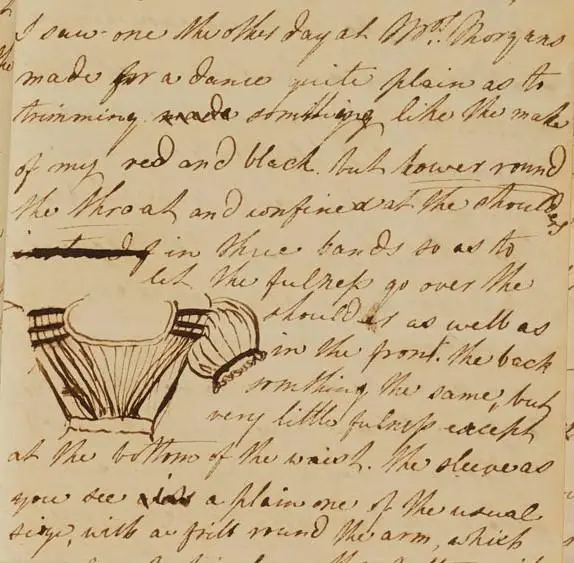 The back something the same, but very little fulness except at the bottom of the waist. The sleeve as you see is a plain one of the usual size, with a frill round the arm, which you can put in lace: this pattern will I think do for the grey body, if you find the muslin makes a great difference in the expence for then it certainly would be better to have the grey. I should be sorry to persuade you to any extra expence, but you buy your things yourself and can therefore get them very reasonable and I believe they do not charge you a great deal for making them, you must not have a very coarse muslin. Still, if you are not likely to go to any more parties I really would have the grey. I think net sleeves out of the question. I believe this is all I can say on the subject – and now for a favor from you. Do if you have a hen pigeon to spare let me have it, but I would rather go without unless you can be certain it is a hen. Perhaps you may have one that is a widow – by cats &c. I dare not trust to one about which you are not certain for I have no room as it is, and Mary & Trutken are obliged to lodge in another house.
The cats have taken Primrose, and I would not have any more but I have so many that have no wives. Do not hurry about [it] but when you go to Walthamstow if you can find one to suit me, let me know. I owe you a brownwings, but I have had no young ones yet though Trutken has been setting for some time, but as he is a young beginner I suppose he will spoil the first pair or two.
Yours truly, Frances Brawne
Postmark torn.
Address: For Miss Keats / 4, Pancras Lane, / Queen Street, / Cheapside.
Further information
To read more about Fanny Brawne and fashion, see Gale Flament's thesis, 'Fanny Brawne Reconsidered: A Study of a Fashion-Conscious Woman of the British Middle Class, 1800-1865.' Thesis. University of Akron. Dec 2007.
Read the next letter