Opening times:

Temporarily Closed

Telephone:
020 7638 8891
Email:
Box Office
Address:

Silk Street


London EC2Y 8DS
View website
View the Barbican Centre website for the latest information regarding Covid-19 closures, reopening and updated opening hours.
Europe's largest multi-arts venue
This unique venue presents a diverse range of art, music, theatre, dance, film and creative learning events.
Keep an eye on the busy programme at the Barbican's two theatres. The Barbican Theatre and the Pit provide a vibrant London home for established international artists, and also help commissioners to launch young performers. As well as performances, the Barbican hosts workshops, talks and debates.
Music
The Barbican welcomes the world's top musicians in both classical and contemporary music to its concert hall. It is home to its resident orchestra, the London Symphony Orchestra, and its associate orchestra, the BBC Symphony Orchestra. The vibrant contemporary music programme features the best of jazz, folk, world, roots, soul, country, contemporary classical and the more experimental ends of rock, pop and electronica.
Cinema
The only cinema in the City of London, the Barbican hosts and programmes a diverse range of film festivals, screen talks, seasons and events, as well as showing the biggest new releases, specialist and international cinema, and live events. There are three cinemas - one inside the main building (Cinema 1) and two situated on the corner of Beech Street and Whitecross Street (Cinemas 2 and 3).
Galleries
The Barbican has two art galleries, the main gallery, Barbican Art Gallery, and a smaller space, The Curve. One of the UK's leading art spaces, Barbican Art Gallery presents the best of international visual art with a dynamic mix of art, architecture, design, fashion and photography. The Curve is dedicated to showing new commissions created by leading international artists in direct response to the distinctively shaped gallery space. Accompanying each exhibition is a programme of talks and events.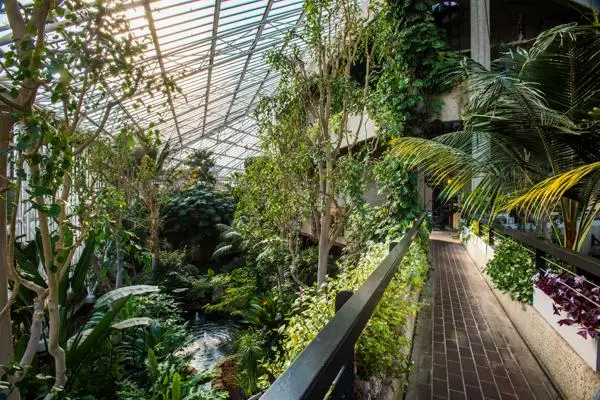 Barbican Online
Audiences can also enjoy the Barbican Centre online, through podcasts, videos, articles and more.
Explore the Barbican Centre online
The City of London Corporation is the founder and principal funder of the Barbican Centre.
Opening times:

Temporarily Closed

Telephone:
020 7638 8891
Email:
Box Office
Address:

Silk Street


London EC2Y 8DS
View website