Improvement works at the Athletics Track
Date updated: 7/09/2023
A track for future generations
In summer 2023, the City of London Corporation are investing £2million into the Parliament Hill Athletics Track to ensure the track keeps its UK Athletics Trackmark accreditation and can continue to host national and international athletics events. As well as resurfacing the whole track, improvements will be made to the long jump fan and to the floodlights, to make them more energy efficient and to reduce light pollution.
By carrying out this project, the Parliament Hill Athletics Track will be safeguarded as one of the top athletics venues in the country, playing an important role for UK sports, where elite athletes and future elite athletes can train and be inspired.
The new surface
The current track surface will be replaced with a non-porus sandwich system.
The sandwich system is designed as a hybrid between Porous and Solid Polyurethane U system and expected to last longer (in relation to shock absorbency) before reaching minimum UK Athletics Performance Standards.
This surface is made of up several layers:
Base layer made up of black rubber granules bound with polyurethane resin (as per porous design)
Final flood layer of polyurethane topped with an EPDM (rubber) surface dressing
It is also a cost effective solution and will retain the same red colouring as the current track surface.
The long and triple jump fan will also be improved.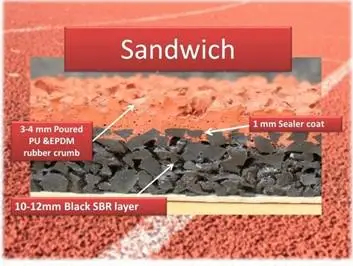 New lighting system
The current lights are outdated and inefficient so a full replacement has been proposed.
Proposed lighting scheme
There will be 10 lighting columns (14 existing)
The lighting columns will be 18m high (15m existing)
There will be 36 lamps (40 existing)
The light level on the track will be 200 lux average whereas the existing is much higher at 362 lux
The lights will be normally run at 100 lux but can be switched to a higher 200 lux for events.
There will be less light spill from the higher columns than the existing as they can be better directed to the track and infield downwards
The lights will be LED, which will use less energy than the existing
The light is concentrated on the track and infield.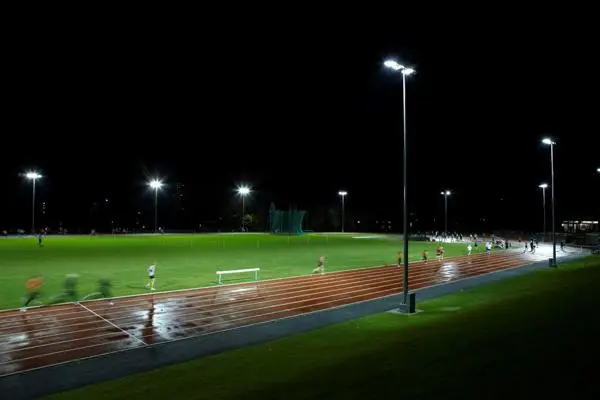 Proposed Programme
Late March: Planning submission
Late May-early June: mobilisation on site
12 June - September: construction of track
July - October: floodlights construction
Late autumn - completion
If you have any questions or comments on this project, please email us.