Find out about our playground plans
Date updated: 21/11/2022
Work has started on the new playground. Over the coming weeks, contractors will be removing the old equipment and starting with the demolition. The waterplay area will then be constructed and then work will start on the edging, pathways, and the planter's construction. The first of the new play equipment has started to be installed with the tree planting and resurfacing to follow. We anticipate the new playground will be opened in early August.
The story so far
West Ham Park's playground is old, some of the equipment is over 25 years and in need of replacement.
In 2010 we asked you what you would like, and gave you three outline options.
Extending the playground, improving the toilets and increasing the faculties was the winner.
And the City of London (our main funders) agreed to pay 75% of the costs and we were confident that we'd be able to fundraise the rest….
Unfortunately no one foresaw a global pandemic, or that our funding streams would all dry up
Where we are now
Planning permission for the playgrounds extension has been granted by Newham council, but we don't have the funds to do that (yet) so we are getting on with spending the money that we have on refurbishing the playground.
Support the playground project
You can help support the playground project by donating below. Anything you donate will go directly towards the playground.
Donate
What will it look like?
Below is a drawing of the ship that will be the centrepiece of the 'new look' playground, and a map drawing of the layout we've proposed.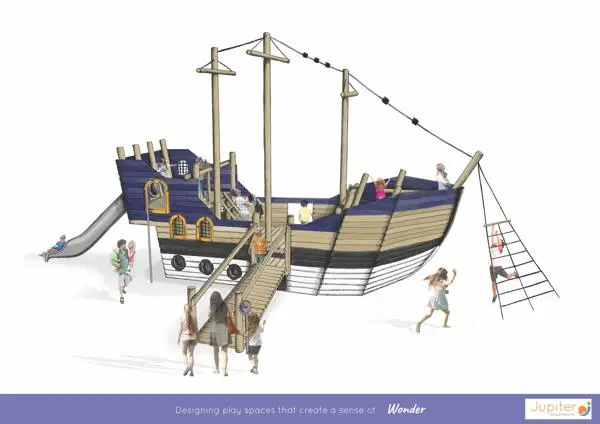 West Ham Park Playground Plans PDF (387KB)
Date submitted: 12/03/21
So when will it actually happen?
Work is underway and we hope to be open late July.
Is there still hope?
The planning permission to extend the playground lasts until 2024 so will continue to look for and apply for funding during this time and if we area able to raise the funds then we would build the extension to the playground and upgrade the toilet faculties and create a coffee kiosk as per the original plan.
Are we really going to take out the monkey swings?!
The will have to be taken out as swings but we are hoping to be able to recycle them into seats or another feature in the playground.
Background information
As the largest park in the borough the site provides a vital green space for its residents. One of the key Charitable Objects of the Park is to provide a playground for youth, our aim is to maintain a quality provision, giving children opportunities be involved and experience a variety of play and sporting activities that will help them develop into confident, happy young people.
The current playground
There's been a playground at West Ham Park since 1937. Much of the equipment today is over 20 years old and pieces are regularly closed due to defects. Two pieces have been removed due to safety concerns. The playground has a few accessible play equipment but many others areas of the playground have inaccessible edges as barriers, mostly tarmacked areas with no planting, tall railings between equipment meant for different age groups causing segregated play and generally majority of the playground is outdated in design.
The existing aged children's lido is used only 8 weeks annually, is resource intensive, does not represent a good use of space, and is costly to maintain and operate.
The importance of West Ham Park
Newham is one of 4 least active boroughs in London, where obesity remains high and is significant. 12.3% of Newham children aged 4-5 and 27.5% aged 10-11 were classified obese in 2012/13. Newham has the fifth highest rate of children in poverty after housing costs of any local authority area. At constituency level, 37.66% of children in West Ham and 37.46% in East Ham live in poverty after housing costs. Access to quality public green space is a priority for these areas if we are to reduce inequality of access to physical activity and help improve people's wellbeing. West Ham Park is the largest park in the borough and is a vital asset as recognised in its Local Plan (2018-2033). The plan also highlights the large number of homes that are to be built in the borough - 43,000 borough wide, with 4286 units in the Stratford and West Ham area. Our proposals to increase the playground will be key in meeting the demands of the growing resident population.
The rejuvenation of the playground will encourage children of different ages and abilities, to be more active, to climb, swing, slide and rotate, which are all important styles of physical activity.
In most of the wards in Newham over one quarter of the total ward population is made up of children aged 15 or under, including the Ward of West Ham. This is the highest percentage in the country and highlights the need to provide sufficient areas of recreation for younger children and teenagers.
Newham's parks and open spaces are important community assets. They are valued by residents and contribute to creating a pleasant environment where people choose to live, work and stay. As advocated by Sport England sites should be protected from loss, enhanced through improving their quality and accessibility and management and provide facilities that are fit for purpose. The redevelopment and extension of the playground at west Ham Park will achieve all of these.
Access to open space and outdoor recreation is an essential part of high quality, healthy, liveable places. As population levels increase, so will pressures on existing spaces, this is particular true in Urban Newham where there is more limited opportunity to provide new open space and arguably of even more importance to a population facing multiple forms of deprivation (whereby the means to travel to other locations or spend money on leisure and recreation may be impaired).