Date updated: 19/01/2023
Building on Women: Work and Power in 2018, the City Corporation's 2018 outdoor arts programme commemorating the beginning of women's enfranchisement, this discovery and research project strives to better understand the City's past.
Research
Historically, the commemoration of women has been lacking across the City's streets, plaques and monuments, history books and archives. Recently commissioned research conducted by Dr Jessamy Harvey, Janet Foster and Virgina Rounding has unearthed hidden stories and unsung heroines, illuminating the role women have played in making the City of London what it is today.
Some of the fascinating women and stories include:
Elizabeth Stokes - pugilist and prize fighter
Violette Szabo - World War 2 Agent
Ethel Bedford Fenwick - Founder of the International Council of Nurses
Alice Kinloch - Equal rights campaigner and one of the founders of the African Association
Watch the documentary
Celebrating City Women Transcript PDF (109KB)
Date submitted: 19/01/23
Guildhall Artist-in-Residence - Hannah Starkey
In 2019, the Guildhall Art Gallery appointed Hannah Starkey as Guildhall Artist-in-Residence. The residency aims to support an artist in the development of new work created in, and about, the Square Mile, with the inaugural theme being 'Celebrating City Women'.
For over twenty years Hannah Starkey has dedicated her photographic practise to the representation of women, usually in city settings. Starkey's images look like spontaneous moments caught on camera, but they are in fact staged, set-up and cast. She has usually spent many hours scouting out a location and finding the subject(s) for each image.
The final artworks each depict a carefully choreographed tableau or Mise en Scene, constructed from the day to day life of women working in the City. These images are heroic and epic, multigenerational and multicultural, reflecting and celebrating the diversity of the women themselves.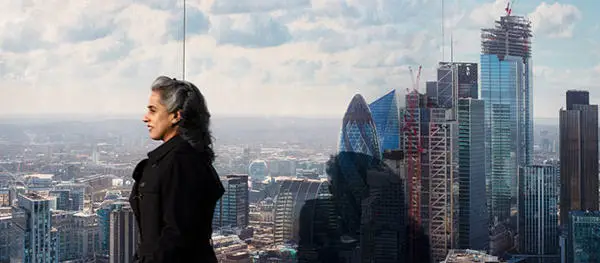 Celebrating more City women
If this has whetted your appetite to learn more about the role of women in the City's past, we have a selection of talks on the Visit the City YouTube channel exploring the lives of the famous, including Elizabeth Garrett-Anderson and Florence Nightingale, and the lesser-known, such as the Girl Beneath the Gherkin and Tudor poet Emilia Bassano.