Date updated: 17/05/2022
Highlights of a Culture& traineeship at LMA
Since October 2019 Faustina Yawson has been completing a yearlong New Museum School traineeship at London Metropolitan Archives (LMA). She writes: New Museum School is a programme run by Culture& (supported by the National Heritage Lottery Fund) which gives 18 trainees experience in the heritage sector, by placing us in numerous heritage sites and cultural institutions across London. Throughout the traineeship, trainees complete a number of modules providing photographic and written evidence; all of which contributes towards a work-based level 3 diploma in cultural heritage. As a cohort we meet throughout the year, attending training on collections management and the creation of exhibitions.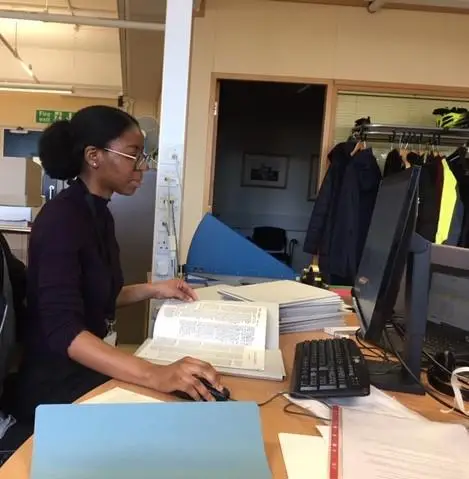 I began my traineeship at LMA as a digital collections intern late last year, under the helpful guidance of senior archivist Sally Bevan. At the start, I attended a number of internal training and introductory sessions to teach me about archival processes and ease me into the unfamiliar environment. This also helped prepare me for the projects I would have the opportunity to work on throughout the year.
One of these projects has been working on Culture&'s own archive (LMA/4786). Culture& is a cultural organisation that strives to ensure that the heritage and arts world is both inclusive and representative of the society we live in. One of the ways it sought to achieve this was through establishing an Artist Network from 1997-2014. Its aim was to provide promotion and support to artists who had often migrated to London from across the world, bringing together individuals of all disciplines and backgrounds, from singers and dancers to artists and storytellers. The Artist Network forms one part of the Culture& archive deposited at LMA, and it has been my role to organise, list and repackage this collection. It is made up of documents, contracts, and photographs, as well as CDs and cassettes which will become part of the Unlocking Our Sound Heritage project at LMA. An aspect of the collection which interests me most, is the transcribed and recorded interviews given by each of the artists. In these interviews, artists discuss their personal journeys, share anecdotes and consider how their work has been impacted by their evolving ideas on culture, identity and sense of self. Seeing how each artist discusses the passion they have for what they do, and how London has become a base for this has been fascinating.
I have been able to work further on the Unlocking Our Sound Heritage project, alongside the project's catalogue editor Kate O'Neill, cataloguing sound recordings from the Bogle-L'Ouverture Publications collection (LMA/4462). During the 1980s Bogle-L'Ouverture, a radical bookshop and publishers owned by Eric and Jessica Huntley, hosted several poetry readings, talks and lectures. Many of these events were recorded, and this is what I am cataloguing. I have appreciated being able to listen to the powerful poetry being performed live and the thought-provoking lectures that were given. Working on this collection has given me a greater understanding of the important role community, literature and the spoken word played in engendering a feeling of resistance. This is one of the projects I have been able to continue with while working at home owing to Covid-19.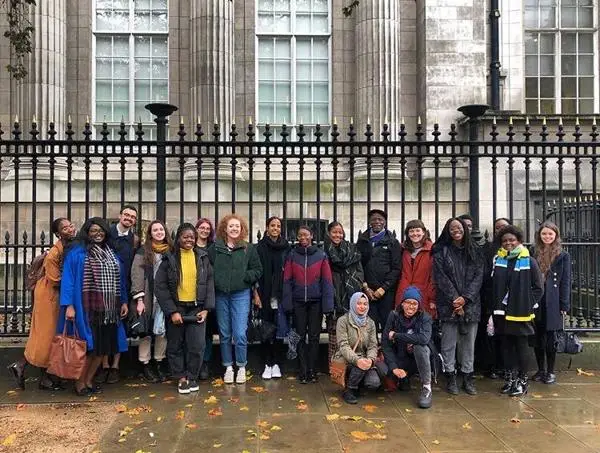 I have also been able to work on other parts of the Huntley Archive (LMA/4462, LMA/4463), helping archivist Katie Rawson with cataloguing and organising the Huntley library. This is an ephemeral collection of pamphlets, newspapers, magazines and publications collected by the Huntleys. The literature within the collection relates to Black activist groups and movements in the UK, Africa and the Caribbean, and dates from around the 1970s to 1990s. In working on this collection, I was able to hold the original manifestos and pamphlets and see how Black British activist movements worked from a grassroots level, an experience I have thoroughly enjoyed. Furthermore, as part of the Culture& traineeship, each trainee has created a podcast episode relating to their projects. Having been so interested in the Huntley Library, I based my podcast on the material found in the collection, and discussed how magazines and newspapers such as 'Race Today' and 'The Voice' played a role in the cultivation and celebration of a Black British identity and culture during the period.
Being able to work on these projects, and both digital and physical items, has emphasised to me how varied archive collections are, and how many opportunities there are to work on a wide range of projects. While what I am working on has changed recently, I am continuing to discover new things and develop new skills within archives.
Listen to Faustina's podcast