La Ghirlandata – Conservation Treatment
Date updated: 28/07/2023
"It is the greenest picture in the World I believe – the principal figure being dressed in green and completely surrounded with glowing green foliage. I believe it is my very best picture — no inch of it worse than another."

Dante Gabriel Rossetti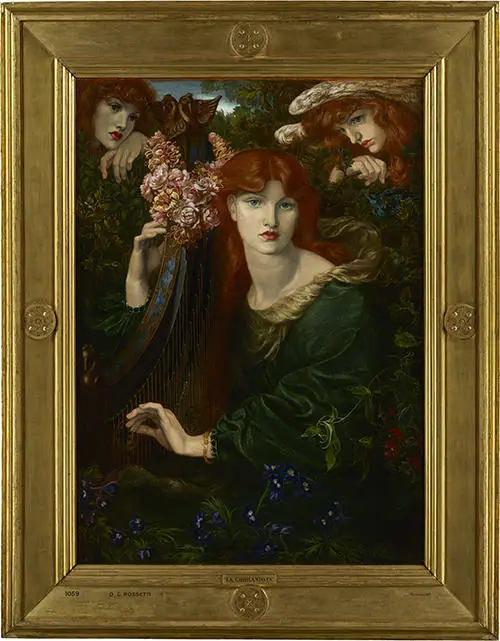 In 2019 'La Ghirlandata' by Dante Gabriel Rossetti underwent a year-long conservation project to restore the painting and its original frame. The treatment by the Gallery's Conservators, was funded by the Bank of America Art Conservation Project, which provides grants to non-profit museums to conserve historically or culturally significant works of art that are in danger of deterioration, including those designated as national treasures.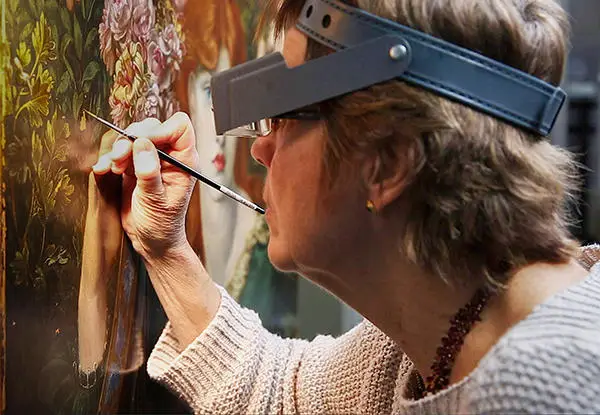 Dante Gabriel Rossetti was one of the founding members of the Pre‐Raphaelite Brotherhood (PRB) – arguably the most revolutionary artistic movement of the 19th century, and together with his work after the PRB, he has had a profound impact and lasting influence on visual culture and British art. 'La Ghirlandata' is an excellent example of one of Rossetti's highly distinctive and powerful later works still in its original frame designed by Rossetti himself.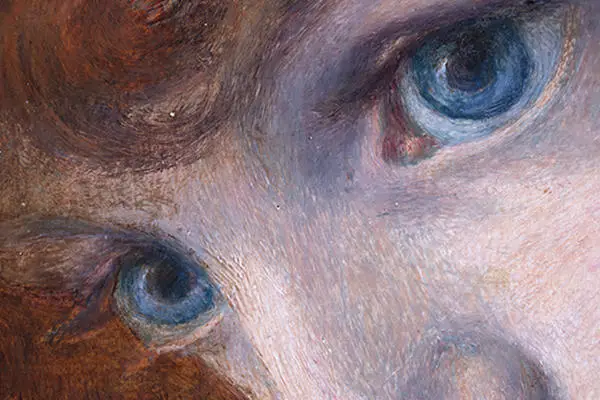 Rossetti painted this intensely personal picture whilst staying at Kelmscott Manor (the house he part-owned with his friend William Morris) during a turbulent period in his life following his breakdown and suicide attempt, at the time Rossetti was in love with Morris' wife Jane. Although the model here is Alexa Wilding, there are several features in the painting that allude to Rossetti's feelings, such as the honeysuckle and roses, indicating sexual attraction. The harp itself represents music - a common metaphor for love and lovemaking. The angel heads were modelled from Morris' 10-year-old daughter May.
Rossetti is also known for his innovative Medallion frame design, of which this is an excellent example. Coupled with its painting this comprises an important complete artwork from his later period.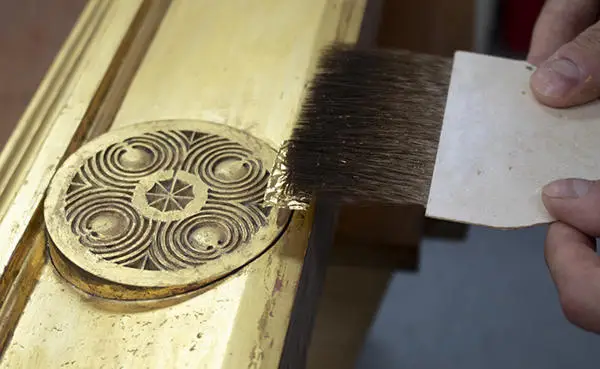 The painting came into the City's collection in 1927 but had not been comprehensively restored or researched since. The paint layers had become vulnerable to loss, and the frame was weak and susceptible to damage. Both painting and frame were compromised by dirt, discoloured coatings and old restoration.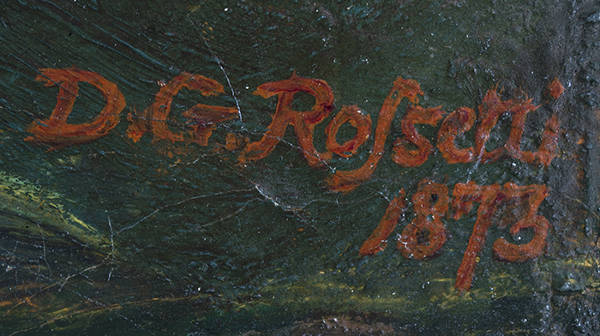 The project included full structural and aesthetic treatment, including re-lining the painting, and a comprehensive technical examination of both painting and frame. Rossetti's masterpiece has been returned to its full intensity and power, and we now have an enhanced understanding of the artist's techniques. The framed painting returned to the Gallery walls in February 2020 and is now secure for transport so that it can be appreciated anew by the widest possible audience.
The treatment of the painting and frame in the Gallery's Conservation studios has been documented in the short film - 'The Conservation of Dante Gabriel Rossetti's 'La Ghirlandata' and its frame'.
La Ghirlandata' and its frame Transcript PDF (100KB)
Date submitted: 7/12/22
Funding for the conservation of this artwork was provided through a grant from the Bank of America Art Conservation Project.