Technical Examination of 'Pomegranates' by Albert Joseph Moore
Date updated: 17/05/2022
In Autumn 2020, Rowan Frame examined 'Pomegranates' 1866 by Albert Joseph Moore as part of her postgraduate research project into the artist's materials and methods. A combination of investigative methods helped to build a more detailed picture of how 'Pomegranates' was painted.
'Pomegranates' is one of the first paintings in which Albert Moore (1841–1893) showed a commitment to what has been loosely termed 'Aestheticism'. His interests were shared by painters such as James McNeill Whistler and Frederic Leighton, and writers like Oscar Wilde.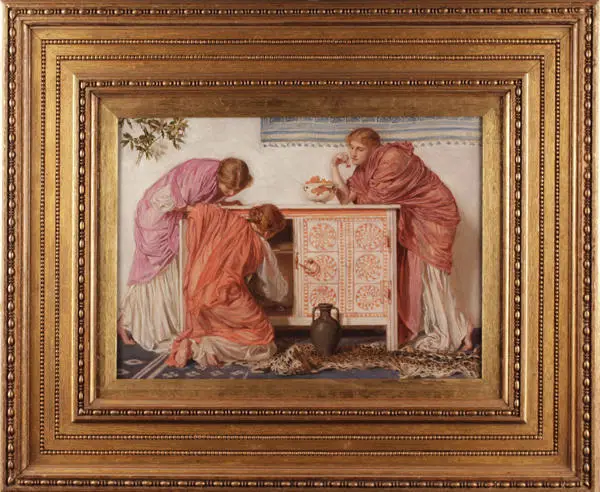 The notion that beauty is more important than storytelling in art was central to Aestheticism, this idea was new and radical in 1865. Here Moore has combined anachronistic, eclectic elements into the composition - from Japanese artefacts to drapery reminiscent of ancient Greece - to discourage narrative readings of the scene. He chose the colours and composition, and probably even the frame, purely for their aesthetic function.
Moore is often considered a mysterious artist because he devoted little time to explaining his art. He was unlike his contemporaries, who often gave interviews and wrote about their techniques and artistic aims. Two of his students of the 1870s did later write about Moore's technique, so there is some record of his methods. However, such accounts must be considered alongside paintings as they are sometimes misleading or incomplete - for example, Moore's students do give slightly differing descriptions.
Visual Examination
A lot can be deduced about how Moore created 'Pomegranates' by simply looking closely. For instance, the hot orange layer Moore applied beneath the figures' heads is visible through the very thin delicate hair and flesh paint.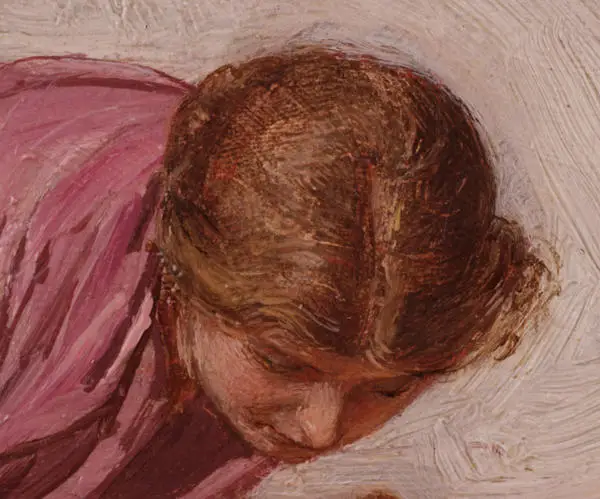 However, many of the steps that went into producing the final effects are hidden from view. Photography using different wavelengths of light capable of penetrating different layers of the painting, and analysis of minute cross-section samples of paint gave a more detailed idea of how it was painted.
Paint Sample Analysis
A sample taken from the very edge of the blue floor revealed hidden preparatory layers. Viewing the sample with a microscope showed that two layers of white paint were applied first to the bare canvas. These would have created a smooth surface with the right absorbency for painting on. Moore may have bought the canvas ready prepared with these layers from his Artist's Colourman.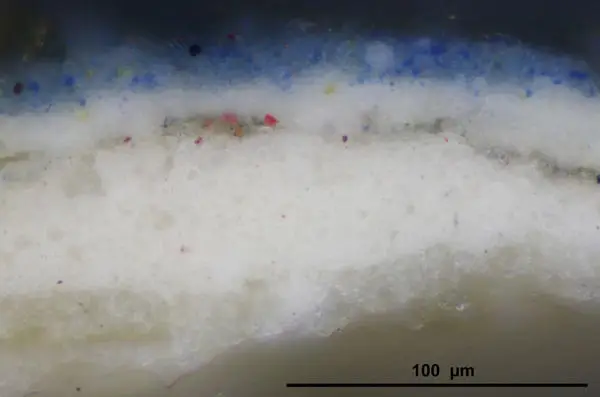 Next Moore applied a very thin layer containing pink and purple pigments. This might have been an underpainting that established the forms in the composition. He covered the underpainting with another layer of white paint before the final blue paint of the floor that we actually see. Moore's students wrote that he liked to add white layers between his underpainting and final paint layers to ensure that his colours remained bright and did not fade over time.
Another microscopic technique gave information about the pigments in the paint sample - scanning electron microscopy with electron dispersive X-ray. This technique is capable of detecting chemical elements in each layer. This suggested that: the white layers are mostly lead white; the thin underpainting layer was painted with organic pigments - lakes or dyes; and the blue paints are a mixture of ultramarine and cobalt blue.
Examination Using Different Light Sources
As the painting could only be sampled at the very edges to avoid damage, other analytical techniques revealed more about pigments Moore used elsewhere in the painting. Viewing the painting with ultraviolet light suggested that Moore used a pigment called madder lake for the drapery over the figure on the left. The bright pink fluorescence of this paint passage is characteristic of the pigment.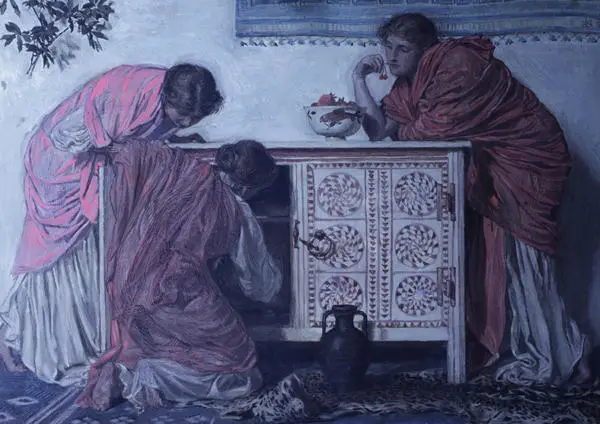 Madder lake and ultramarine were two of the more expensive pigments available to Moore. Historians have shown that Moore did not achieve much financial success in his career. But he may have been prepared to splash out on a costly pigment if it suited his artistic aims.
An image of the painting taken with an infrared camera revealed other hidden steps of Moore's method. The infrared image showed that he painted the figures nude before painting on their drapery.
Lighting the painting from the side - raking lighting - showed that Moore made the nude underpainting with stiff, thick paint that held his brushstrokes. He let this texture show through the thinner paint of the drapery on top. Moore might have chosen to do this because he wanted to depict the way that fabric with a beautiful drape can conform to the body shape beneath.

Infrared photography also helped to show where Moore changed his mind while painting. He decided to change the position of an arm and a leg of the figure on the right. Overall, Moore's changes are slight. This is not surprising given that he is known to have spent a lot of time making preparatory drawings and planning out his composition before he began on a painting.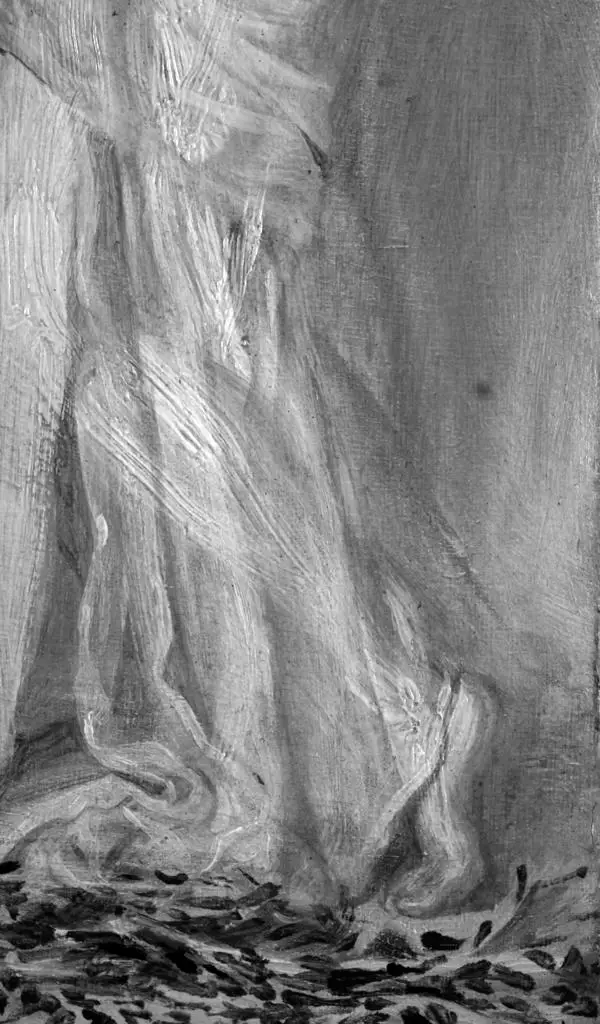 Building a Picture of Moore's Methods
Findings from examining 'Pomegranates' will be useful for making comparisons with other paintings by Moore and the written accounts of his technique. From the 1870s Moore frequently purchased materials from a particular Artist's Colourman, called Roberson whose records survive. As this research progresses it is hoped that these records might add further details about the kinds of canvases, paints and tools Moore liked to use.
Guildhall Art Gallery Conservation would like to thank Rowan Frame (Student, Postgraduate Diploma in the Conservation of Easel Paintings) and the Hamilton Kerr Institute, Cambridge.