Epping Forest Visitor Centre at Chingford
Start your day out in Epping Forest at our Visitor Centre at Chingford, where we have everything you need to go exploring.
Dogs are welcome throughout the Centre, so bring your furry friends with you on your day out in the Forest.
The Centre has:
maps and leaflets to help you make the best of your day
public toilets and baby changing facilities
a gift shop full of Forest-themed giftware for all ages
fun exhibitions exploring the wildlife and history of Epping Forest
friendly, knowledgeable staff on hand to answer all your questions
The Centre also hosts events and exhibitions all year round.
For information regarding school visits please contact our learning team
Please note that from October 29 the Visitor Centre will change to winter opening hours of 10am - 4pm
Exhibition from 11 May
Aerial views: Early 19th century balloon flights over Epping Forest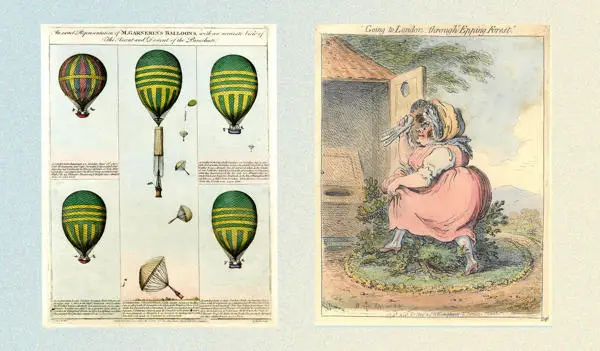 In the summer of 1802, in the heady days of 'balloonomania' when tens of thousands of people flocked to view the ascent of hot air balloons in London, two flights were blown East over Epping Forest.
The intrepid 'aeronauts' published accounts of the amazing flights. Discover in this exhibition the stories, the characters and how their 'aerial views' prompted both humour and wonder in the early years of the 19th century.
View our events
Cycling
The car park at the Centre has several Sheffield-style bike racks for you to lock your bike to.
Public transport
The Centre is well-connected to public transport by Chingford Station, ten minutes' walk away, which is served by London Overground and several bus routes.
Visit TfL's Journey Planner to plan your trip to the Centre.
Parking
The Centre has its own small car park with two disabled parking bays and three for non-disabled drivers.
We also have four larger car parks quite nearby:
Please visit our car parking page for opening and closing times for each of our car parks.
Our visitor centre at Chingford is based on two floors with lift access to galleries on the first floor with its external, covered wooden balcony offering a wonderful view of the Forest. Please see the following for a room-by-room breakdown of the building, with access requirements for each.
Foyer and shop
step-free, level access throughout the room
well-lit with overhead lighting and spotlights
automatic glass doors
a welcome desk at an accessible height
nearly all shop stock is displayed at an accessible height
there is ample room to turn a wheelchair
a hearing loop is available throughout the building
a magnifying glass, pen and paper are available on request
The exhibition displays
our displays are designed to appeal to all visitors
displays range from 20cm to 2m above floor level and are suitable for all ages and heights
most displays are on our first floor, accessible via a lift with space for one large wheelchair
our display cabinets are tactile and can be explored for cut-outs of animals and objects
manual and audio interactives are provided
written material has been drafted in high contrast, large format Plain English
guided tours are available on request
Public toilets
our toilets are at ground level, and accessible across level ground, with non-slip flooring inside
there is a unisex accessible toilet, straight ahead when entering
the toilets are all well-lit with overhead tube lighting
vertical and horizontal rails are available
our sinks have lever taps
Parking
Disabled parking bays are available at:
Epping Forest Visitor Centre at Chingford
Barn Hoppitt car park
Asphalt and resin-bonded paths with dropped curbs provide an even, step-free surfaces when approaching the visitor centre from our car parks, the furthest of which is 120ft away.
Those displaying a blue badge park free in all Epping Forest car parks.
Please note, however, that these car parks are unlit at night.