Date updated: 18/05/2022
From a plaque marking where William Wallace was gruesomely killed at Smithfield to a modern 'Resolution' man by Antony Gormley, wandering the streets becomes far more interesting when you take a closer look.
This list is not exhaustive of the statues, sculptures and memorials that reside within the City of London.
The Cordwainer
Location Watling Street
Alma Boyes' Cordwainer of Watling Street commemorates 100 years of the ward of Cordwainer Club (a cordwainer was a shoe maker and/or leather worker).
Bellerophon Taming Pegasus
Location Finsbury Avenue
Depicting Bellerophon and Pegasus. It was the final sculpture worked on by Jacques Lipchitz, and was completed after his death in 1973.
Lipchitz was one of the most prominent cubist sculptors of his generation. As a teenager he moved to Paris, where he mixed with Picasso and Braque. By the time he left Paris for New York at the start of the Second World War, Lipchitz had already established an international following.
The sculpture is actually in New York City, and what we have here in London is a 12 foot bronze cast that's about half the size of the American original.
Dolphin Statue
Location Ben Jonson Place, on the north podium, at the Barbican Centre, London
Water feature designed by John Ravera (1990), with 2 bronze dolphins balanced on their tails surrounded by 21 steel poles spouting water.
City Dragons
Location See them at all City entrances
Major City entrances and exits are guarded by the City's dragons, symbols of protection in heraldic terms. It is dragons that support the City's shield in its ancient coat of arms and they hold the cross of St George and a small red sword.
Gardener Statue
Location Brewers Garden, Aldermanbury Square
A tribute to all the green-thumbed workers who tend London's public parks and gardens.
Karin Jonzen was commissioned in 1971 by the city's Trees, Gardens and City Open Spaces Committee to create a work in honor of the city's gardeners.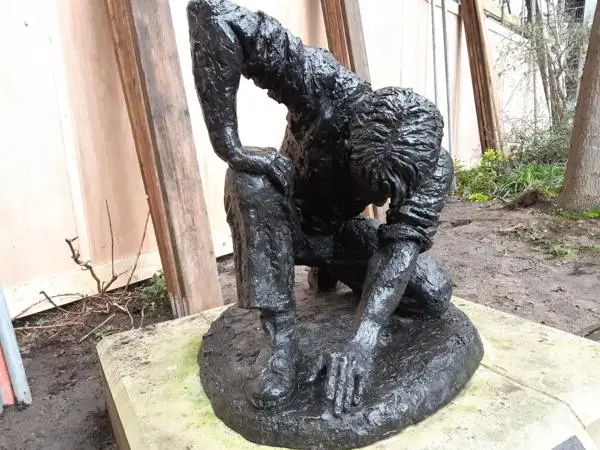 Gilt of Cain
Location Fen Court
This powerful sculpture by Michael Visocchi & Lemn Sissay commemorates the abolition of the transatlantic slave trade in 1807, which began the process of the emancipation of slaves throughout the British Empire.
The granite sculpture is composed of a group of columns surrounding a podium. The podium calls to mind an ecclesiastical pulpit or slave auctioneer's stance, whilst the columns evoke stems of sugar cane.
Extracts from Lemn Sissay's poem, 'Gilt of Cain', are engraved into the granite. The poem skilfully weaves the coded language of the City's stock exchange trading floor with biblical Old Testament references.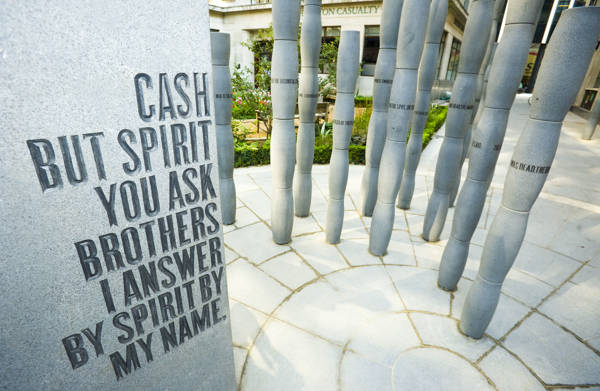 Hodge the Cat
Location Dr Johnson's House, Gough Square
Among a maze of courtyards and passageways reminiscent of old-London is a statue of Dr Johnson's cat Hodge (Johnson composed the first English dictionary). You can pay a visit to Dr Johnson's House whilst you're here.
John Smith
Location Bow Churchyard off Cheapside
Captain John Smith was born in Lancashire in 1580, and played a very important role in the establishment of the Jamestown colony, the first permanent English settlement in North America.
The inscription reads, 'First among the leaders of the settlement at Jamestown Virginia which began the overseas expansion of the English-speaking peoples'.
Smith died in 1631, and is buried in Saint Sepulchre-without-Newgate Church, Holborn.
LIFFE trader
Location Currently on display at Guildhall.
The London International Financial Futures and Options Exchange (LIFFE) was one of the last 'open-outcry' trading companies in the City and Stephen Melton's trader statue has become a symbol of City trading.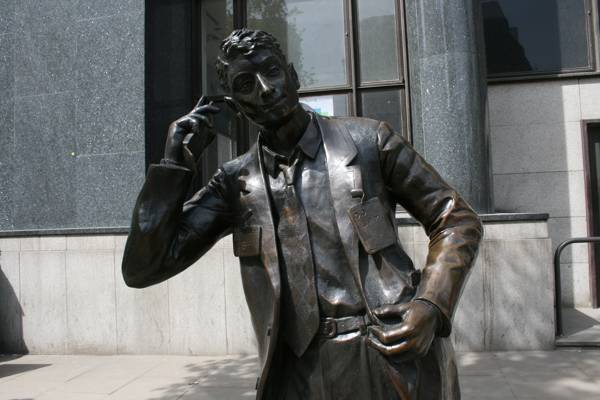 London Stone
Location 111 Cannon Street
London Stone is a historic landmark housed at 111 Cannon Street in the City of London. It is an irregular block of oolitic limestone, the remnant of a once much larger object that had stood for many centuries on the south side of the street.
The name "London Stone" was first recorded around the year 1100. The date and original purpose of the Stone are unknown, although it is possibly of Roman origin. There has been interest and speculation about it since the medieval period, but modern claims that it was formerly an object of veneration, or has some occult significance, are unsubstantiated.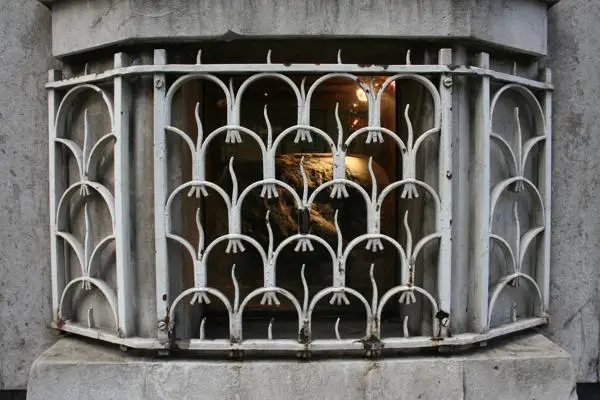 Millenium sundial
Location river walk, north side of Millennium Bridge
One of three polar sundials, designed by Piers Nicholson, and built by the Royal Engineers in late 1999 for the Tylers and Bricklayers Company of the City of London.
Sundials measure time by the Sun. On a sunny day, the shadow of the oxhead gnomon on this sun dial indicates the time. The Roman numbers show Winter time while the Arabic numerals show Summer time.

Noon is when the Sun is highest in the sky. Noon at Blackfriars is 24 seconds later than noon at Greenwich.
The Minatour
Location Saint Alphage Gardens, near the Barbican and London Wall
The Minotaur by Michael Ayrton was first acquired by the City of London in 1973. Initially placed in Postman's Park, it was moved to St Alphage in 1997 and then Barbican highwalk, possibly as a wry comment on the fact that getting into and out of the Barbican is akin to wandering through a maze.
Nail
Location One New Change retail centre
Standing at the entrance of French architect, Jean Paul Nouvel's shiny glass shopping centre, One New Change with the grand sixteenth century architecture of St Paul's cathedral in the background, Gavin Turk's Nail is hammered between the ancient and modern. At the intersection of these two worlds.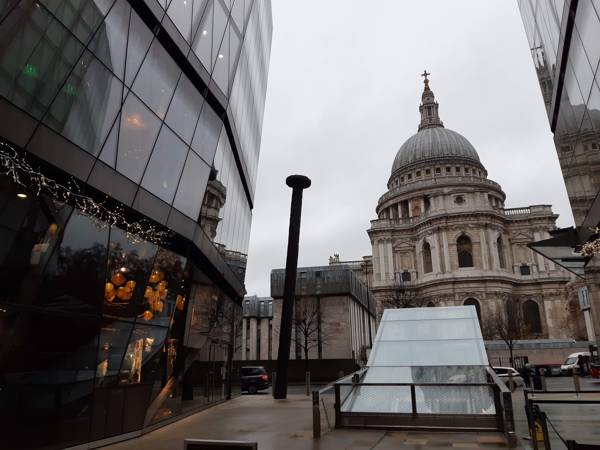 Panyer Boy
Location Panyer Alley
North of St Paul's Cathedral on Panyer Alley, it's easy to miss the cherished bas-relief mounted on the wall. The inscription reads: "When ye have sought the City Round. Yet still this is the highest ground. August 27th 1688."
These words refer to when the Roman's founded their settlement of Londinium, they built it on two hills, Ludgate Hill and Cornhill. These were gravel hills that rose out of the marsh and clay of the Thames's flood plain.
It was long believed that the higher of the two hills was Ludgate Hill, on top of which both St Paul's Cathedral and the surrounding buildings stand.
Resolution
Location Shoe Lane
Antony Gormley's Resolution has been described by the artist: "Seen from afar it looks like a man, from close up it looks like a city. It is wonderful to be able to site a work that interacts with the daily life of the street".
Rush Hour
A highly experimental and innovative artist, Pop Art pioneer George Segal was renowned for casting his figures directly from life – usually friends and family – using plaster bandages to create human scale moulds from which his bronze sculptures could be cast. In Rush Hour, Segal captures a group of city dwellers to perfection, each one going about their daily routine in a highly life-like manner.
Location: Broadgate off South Place
Shakespeare bust
St Mary Aldermanbury Gardens also house a monument to Henry Condell and John Heminges, key figures in the production of the First Folio of William Shakespeare's plays and co-partners with him in the Globe Theatre. Condell and Heminges lived in the St Mary Aldermanbury parish and were buried in its churchyard.
Location
St Mary Aldermanbury Garden, Aldermanbury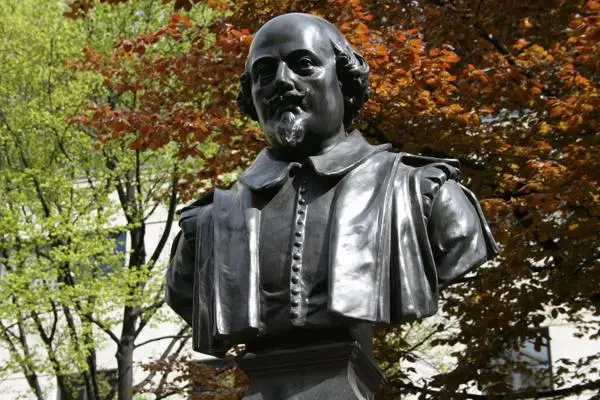 Shepherd and Sheep
An outdoor bronze sculpture by Elisabeth Frink (1975).
Frink's sculpture is a reference to Newgate Meat Market that was on this site from the late 17th century, until Smithfield took it's place in 1868. The use of sheep is also a religious nod to the proximity of St Paul's Cathedral.
Location: Paternoster Square by St Paul's Cathedral
William Wallace
Smithfield has been a place where the public have gathered since Roman times, including a 3-day annual St Bartholomew's Fair from 1133 to 1855.
Therefore this was a natural site to stage public executions, and was sometimes known as The Elms – because it had Elm trees.
William Wallace, a Scottish knight and one of the leaders of the first war of Scottish independence (famously depicted by Mel Gibson in the 1995 film, Braveheart), was cruelly executed here more than 700 years' ago, on 23rd August 1305.
The memorial was placed here in 1956.
Location: Smithfield Rotunda by St Barts Hospital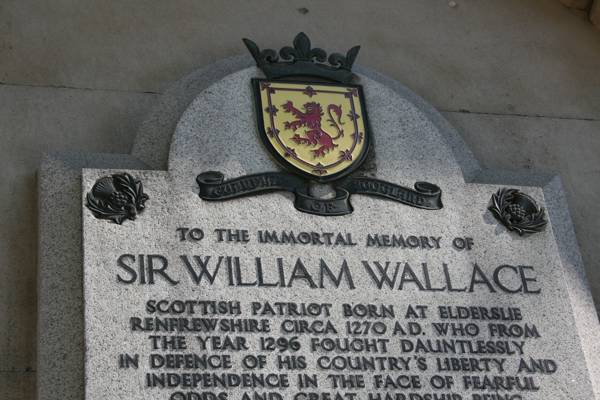 Young Lovers
The Young Lovers by Georg Ehrlich was installed in the garden in 1973.
Location: Festival Gardens by St Paul's Cathedral