Financing waste infrastructure in Indonesia
Date updated: 18/05/2022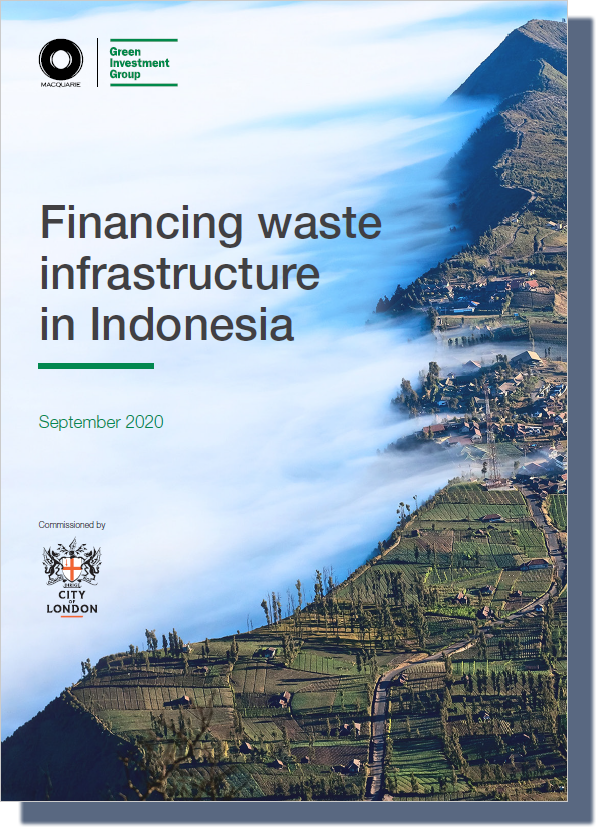 The City of London Corporation and Macquarie's Green Investment Group (GIG) jointly release today a new report 'Financing waste infrastructure in Indonesia'.
As momentum behind sustainable finance continues to accelerate, a rapidly expanding pool of capital is seeking sustainable projects. But change in the real economy is not keeping pace. There is still a significant and persistent gap in financing and delivering the sustainable infrastructure for our future.
Mismanagement of waste in Indonesia accounts for around 10% plastic pollution in the world's oceans, second only to China. Drawing on interviews with stakeholders across the waste value chain, the report finds that focused collaboration between the UK and Indonesia's public and private sectors could unlock critical investment in Indonesia's waste infrastructure sector.
Against this backdrop, the Indonesian Government set out an ambition earlier this year to reach near zero plastic pollution by 2040. One of the biggest challenges is raising finance needed. Around £19 billion of investment is required to achieve appropriate levels of waste collection, sorting, recycling, recovery and disposal over the next 20 years. As in many emerging economies, urgent steps are needed to close the gap between policy commitments and current flows of mainstream capital, requiring investment-focused transition roadmaps to crowd-in private finance.
To address this gap, GIG led a series of interviews with development banks, technology providers, waste advocacy groups, and international infrastructure investors on waste management challenges and sector-readiness for investment. Building on practitioners' perspectives, the report presents a finance led-view on the conditions needed to unlock waste infrastructure investment.
We welcome interest in taking the recommendations forward. To contact us about the report please contact the innovation team.
Financing waste infrastructure in Indonesia PDF (3MB)
Date submitted: 3/09/20