Eat and Drink in the City of London
Date updated: 13/01/2023
The Square Mile is home to many of the world's top international businesses and has a food offer to match.
Buzzing bars and eateries are to be found on every street. There are casual eats and cafes for light bites and food on the go alongside talked-about destination bars, rooftop dining, historic arcades and markets. Independents, fine dining and Michelin starred restaurants. From street eats to pub grub and posh nosh, it's all in the City.
Bloomberg Arcade is a pedestrianised haven in the heart of the City, host to independent restaurants with options for all day dining, cocktails, wine and coffee. The arcade sits on an archaeological site so if you've got a little time spare pop across to London Mithraeum Bloomberg SPACE (just a few metres away) for a delve into the City's Roman history.
For great al fresco seating areas and open-air terraces, head to Broadgate by Liverpool Street Station. The range of cafes, bars and restaurants are brilliant for socialising, eating, drinking and relaxing – both indoors and out.
Given the number of skyscrapers, it will come as no surprise that the Square Mile is THE place for bars and restaurants with a view. Try drinks and dining amidst the greenery of Sky Garden with its spectacular views of the city. Japanese, Peruvian, Brazilian fusion at Sushi Samba on floors 38 and 39 of Salesforce Tower (before called Heron Tower), 110 Bishopsgate and one floor up is Duck and Waffle, the highest 24-hour restaurant in London. There's also City stalwart Coq D'Argent situated within a secret rooftop garden, or the Skyline rooftop at the Tower Suites hotel offering amazing views of Tower Bridge.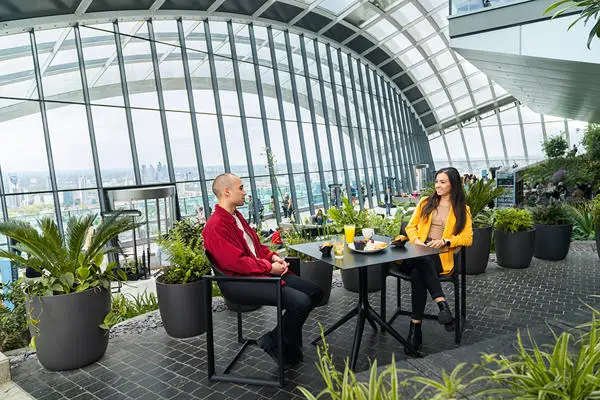 Leadenhall Market, near to Fenchurch Street Station and Monument is one of the City's hidden gems - a stunning Victorian covered market (which has also featured in a Harry Potter film!) Alongside its shops, specialist food stores, it offers both casual and fine dining, with restaurants, cafes and award-winning pubs and bars.
The Royal Exchange near Bank is one of London's grandest and most iconic buildings, located in the heart of the City. Home to a range of fine drink and dining offerings including Fortnum's Bar & Restaurant, located in the centre of the stunning covered courtyard.
Located just by St Paul's, One New Change is hub for shopping as well as eating and drinking. Great for a quick bite or a slap-up meal, there's everything from theatrical Asian dining at the Ivy Asia, soaking up the views of St Paul's from the rooftop at Madison, to more casual fare from Gordon Ramsay and well known high street names.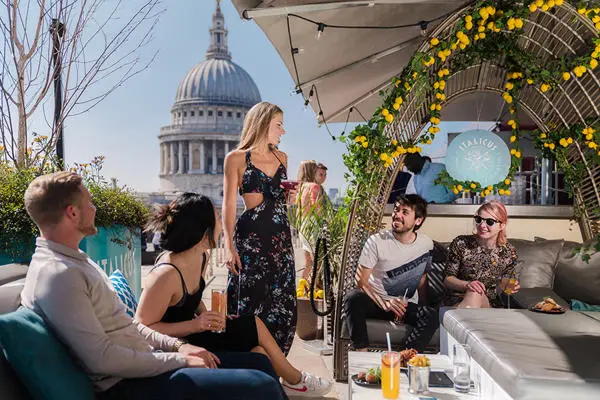 Spitalfields Market, near Liverpool street station, is another top spot for food and drink. You could eat here every day for a month and always try something new and different. You'll find a great choice of family-friendly restaurants and their Gourmet Street Food Trucks are an amazing experience for all.
The City's pubs have been at the heart of London life for centuries and many have inspired famous historical figures, including Chaucer, Shakespeare and Dickens. Our Historic City pubs route will help you uncover a few of the oldest and most atmospheric, including the famous Ye Olde Cheshire Cheese.
Download the In the City app for exclusive deals and great offers from bars and eateries in the Square Mile, or head to the Visit London website to explore more options to eat and drink in the City of London.