Date updated: 22/03/2023
Epping Forest has 284km of shared-use paths which makes it a great place to explore by bike, whether you're looking to relax, get fit, or just looking to avoid cars and roads on your way from A to B.
Cycling in Epping Forest
Have a look at our map showing our permitted cycling areas if you'd like some help planning your ride with us.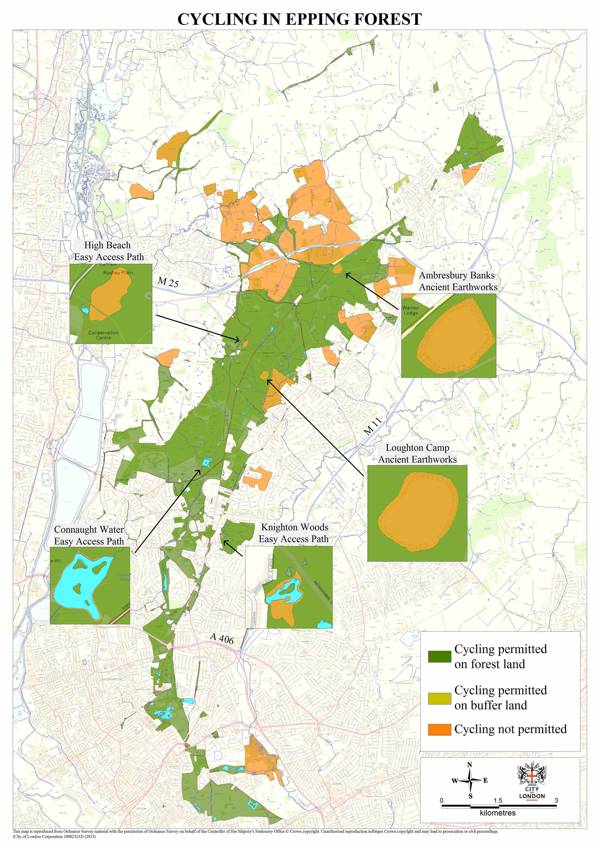 You can also find locations of all our cycle racks on our interactive map.
Code of conduct
There are some guidelines you should follow when cycling in the Forest. You should:
use the shared-use trails considerately to ensure the safety of others

let people know you are there with a greeting or bell
give priority to pedestrians and horse-riders

approach corners and descents with caution as dogs, wildlife and cattle may cross your path unexpectedly
do not race bicycles

this includes digital KOM/QOM 'chasing'

do not build or dig jumps or berms or cut trees
leave no trace of your visit

use the existing routes and avoid skidding to prevent erosion
take your litter home

leave gates as you find them to prevent cattle straying
respect the 'no cycling' restrictions that exist to protect ancient monuments and delicate habitats
comply with the Epping Forest byelaws and Countryside Code
Places you can't ride
the Iron Age earthworks at Loughton Camp and Ambresbury Banks; both of which are Scheduled Ancient Monuments and of national importance
Loughton Brook; which is protected as a Local Geological Site
our easy access paths at High Beach, Connaught Water, Knighton Wood and Jubilee Pond
and the buffer lands

you can cycle in the buffer lands but only on bridleways or byways which can be used in line with the Countryside Code; free-range cycling is not permitted
Cycle hire
Go Further Cycling have bikes you can hire to ride in the Forest, and are based just opposite Chingford Station by our golf course - and close to our Chingford visitor centre. They also offer bike servicing, repairs, spare parts and accessories for your day out.
Mountain Bike Trail riding
Because large parts of Epping Forest are so ecologically important, we aren't able to offer trail riding; but there are lots of trails that we can direct you to, such as: