Fanny Brawne's letter to Fanny Keats, 29 October 1822
Date updated: 18/04/2023
Before he parted from Fanny Brawne and left Wentworth Place, Keats asked her to write to his sister, Fanny Keats. They began a correspondence of 31 letters over a four-year period.
Keats House are publishing the letters from Fanny Brawne to Fanny Keats online on the 200th anniversary of them being written. This project reveals the lives of two women living in London in the 1820s. See 'Related links' to read other letters. 'The journey of the letters' tells the story of how they came to be in the Keats House collection.
The letter
Fanny Brawne's last letter, written on 15 October 1822, was sent to Fanny Keats after more than a month of silence, which was caused by Carlo the family dog biting her hand. In this letter she adds some more detail about the bite, letting Fanny Keats know that it wasn't as bad as might be thought, but she adds that Carlo died after eating something.
In this letter Fanny returns again to news about her pigeons, and she also says that Mrs Dilke and the Reynolds sisters have made up their quarrel. Their brother, John Hamilton Reynolds, who was a close friend of Keats, had recently married Eliza Powell Drewe at Holy Trinity Church, Exeter on 31 August 1822. Finally, she mentions how she tries to avoid the suspicions of Richard Abbey (Fanny Keats's guardian) and his wife, and that she hopes Fanny Keats no longer has to pay for receiving her letters. It was usual for the recipient to pay the postage for the letter.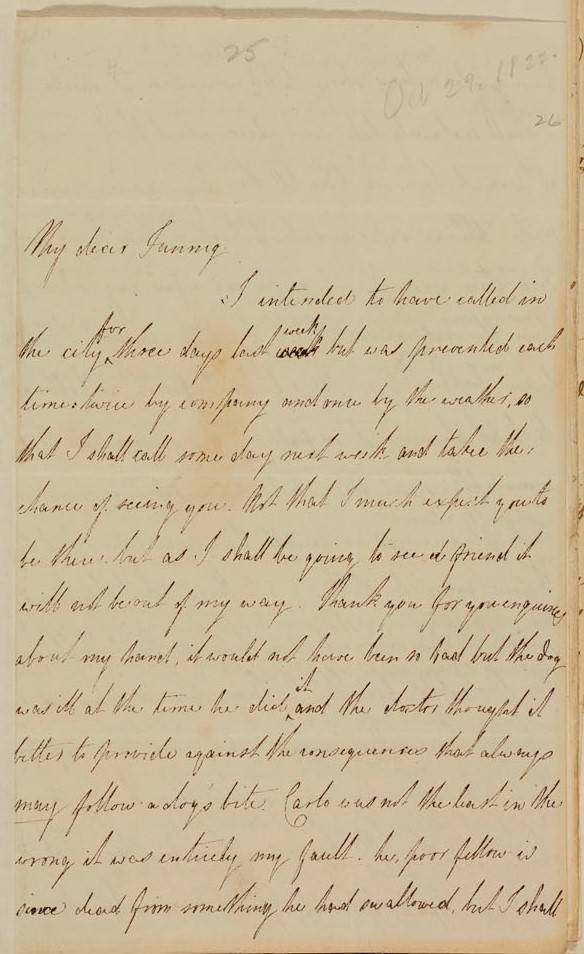 My dear Fanny
I intended to have called in the city for three days last week but was prevented each time: twice by company and once by the weather, so that I shall call some day next week and take the chance of seeing you. Not that I much expect you to be there, but as I shall be going to see a friend it will not be out of my way. Thank you for your enquiries about my hand, it would not have been so bad but the dog was ill at the time he did it and the doctor thought it better to provide against the consequences that always may follow a dog's bite. Carlo was not the least in the wrong it was entirely my fault, he, poor fellow is since dead from something he had swallowed, but I shall have quite long story to tell you about it when we meet. – I shall certainly take your advice about the pigeons, but at present I am waiting till they lay again, which will make things safer, and which I expect them to do very soon, they generally set on the egg a few days before they have the misfortune to break it which accident, I really believe happens from their fondness for it, as both wish to hatch at once; it is people of this disposition that invariably spoil their children and bring them up such plagues as no doubt I was, and for what I know may be still. There is, I think, every prospect of a reconciliation between Mrs Dilke and the Reynolds', for Mr J. Reynolds is married, the Dilkes have called on him and have been informed that his sisters are very anxious to make up the quarrel, fine fun it will be to see them together. I shall send you the papers up to last sunday but that of today is at present lent to a friend and I would not wait any longer before I wrote – I always send the papers and a letter together as I fancy the postman's visits might occasion suspicion if too often repeated – I hope I do not miss any, but I am sure to forget the date of the last you had: I also hope you do not pay anything now –
I remain, My dear Fanny
Yours affectionately
Frances Brawne
I see I have mentioned in the beginning of my note that it is owing to the doctor my hand was so bad; but as I have not told you what was done, perhaps you will fancy, as my cousins did, that a terrible operation was performed, my hand dissected and half-carried away and a most delightfully horrible story it was, but unfortunately for those who delight in these wonders I had only a little caustic applied, which is nothing at all to talk about –
Postmark: Fenchurch St. 4 o'clock, Oc. 29. 1822. Ev.
Address: For Miss Keats / Richard Abbey's Esq. / Walthamstow.
Further information
In Italy at this time, Joseph Severn was active in putting up the gravestone for Keats, and he was also working on a painting, 'Greek Hill Shepherds rescuing a Lamb from a Vulture', partly based on two lines in Book One of Keats's 'Endymion': 'Or upward ragged precipices flit / To save poor lambkins from the eagle's maw'. The painting was exhibited at the British Institution in 1825 and is now in the collection at Keats House. Lord Byron had composed the stanza in Canto XI of 'Don Juan' that referred to Keats being 'snuffed out by an article', a stanza that Mary Shelley wrote she was 'much pleased with'. The canto was published in 1823. In Newcastle, William Gill Thompson had composed his poem 'A Tribute to the Memory of John Keats, the Poet, Who died of Consumption, at Rome, in his 24th Year.' The poem was published in November 1822 in the Tyne Mercury newspaper. It ends:
Oh! tread with a delicate step on the earth
Where the relics of genius are lying,
Where the loveliest and mildest of flowerets have birth –
Where their sweets o'er the buried they're sighing!
The buried! who, living, emitted such rays
As flashed from the masters of far-vanished days.