Fanny Brawne's letter to Fanny Keats, before July 1823
Date updated: 28/07/2023
Before he parted from Fanny Brawne and left Wentworth Place, Keats asked her to write to his sister, Fanny Keats. They began a correspondence of 31 letters over a four-year period.
Keats House are publishing the letters from Fanny Brawne to Fanny Keats online on the 200th anniversary of them being written. This project reveals the lives of two women living in London in the 1820s. See 'Related links' to read other letters. 'The journey of the letters' tells the story of how they came to be in the Keats House collection.
The letter
Fanny Brawne's previous two letters were written in October 1822. This letter has no date or postmark. When it was published in 1937, it was dated in 1823 and placed before a letter written in July 1823.
In an earlier letter, written in August 1822, Fanny Brawne wrote that 'I want to send you a magazine and a volume of Shakespeare'. This was Keats's copy of the facsimile of the first folio edition of Shakespeare's plays, which he had given her before he left for Italy. In this letter the two friends had met the previous day and Fanny now writes about the books she is sending to Fanny Keats. She decides not to lend the Shakespeare because it is too large. Instead, she sends her a copy of the works of Spenser, also given to her by Keats, and includes in the parcel the 'serious poems' of Lord Byron, Polidori's story 'The Vampyre', Byron's poem 'Beppo' and the first two cantos of 'Don Juan'. She also includes two volumes of the 'London Magazine' from 1820, which contained reviews of 'Endymion' and 'Lamia'. She decides to send the Shakespeare later that year when Fanny Keats is 'in town for the winter'.
Fanny ends her letter by asking for news of her brother George in America, so that she can let the Dilkes know. Charles and Maria Dilke lived in Westminster. William Dilke was Charles's brother.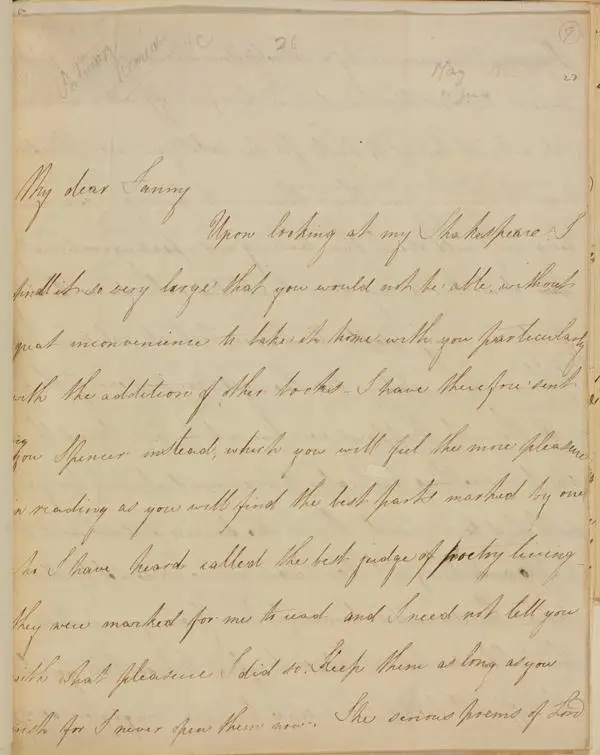 My dear Fanny
Upon looking at my Shakespeare I find it so very large that you would not be able, without great inconvenience to take it home with you particularly with the addition of other books. – I have therefore sent you Spencer instead, which you will feel the more pleasure in reading as you will find the best parts marked by one who I have heard called the best judge of poetry living – they were marked for me to read and I need not tell you with what pleasure I did so. Keep them as long as you wish for I never open them now. The serious poems of Lord Byron were given me by a schoolfellow; who was once my great friend but as this friendship has gone off into a mere acquaintance I do not feel bound to keep [them] for her sake you are therefore wellcome to them if you think them worth keeping. I can remember being half wild about them learning and repeating continually when alone but as my dear Keats did not admire Lord Byrons poetry as many people do, it soon lost its value with me. If I am not mistaken he thought Manfred one of the best –
Of the rest Beppo is now known to be his; I send the Vampire which has nothing particular to recommend it, but being at first published as Lord B–––'s, who however did not write it – Beppo and the first Don Juan are considered by all very clever. The second volume of Don Juan you will not I think like so well – I shall be glad to hear how you like the different books – I send but one magazine on account of the size but you mentioned having so little prose that I thought it might not be unpleasant – The review on Endymion is written by a Mr Patmore, who was much talked of some time ago through a duel he was second in. You I dare say know that the Mr Scott killed was the editor of this very magazine – If I do not find the parcel too large I will put in the second magazine because you will find in it all that occasioned the duel – The articles called table talk are very good – they are by Mr Hazlitt – those signed Elia are considered very beautiful – Charles Lamb is the name of the author. In this I give your dear brother's opinion as far as I could get it now – all these books are of no consequence to me and I read only the most amusing. – Any of them you already have it will be better to pack up and leave in town, then let me know by a letter and I will send my carrier who is as good as a footman – The Shakespeare I will send when you are in town for the winter, it will then amuse you and there will be no trouble in carrying it about – When you write will you tell me what you know of your brother George, yesterday I forgot to ask. – Mrs Dilke is anxious to know where he is, as Mr William Dilke would like to write to him – I went to westminster after I left you yesterday and tomorrow I go there again. Mrs Dilke desired her best love and was very much disappointed she had not seen you.
Now I must, like the country people beg pardon for all mistakes but I have written in such a hurry, expecting the carrier every minute, that I hardly know what I am about as you will see – I remain my dearest girl
Yours most affectionately
F. Brawne
No postmark.
Address: Miss Keats.
Further information
'Upon looking at my Shakespeare'
This was the 1808 facsimile of the 1623 folio edition of Shakespeare's plays that Keats gave to Fanny Brawne as a parting gift when he left for Italy.
The volume is now in the collection at Keats House. It is inscribed 'John Keats / 1817- / to F.B. / 1820-' on the title page. Keats marked five plays, 'Troilus and Cressida', 'King Lear', 'A Mid Summer Night's Dream', 'Romeo and Juliet', and 'Henry IV, Part I'. It also contains two of Keats's poems, 'On Seeing a lock of Milton's Hair' and 'On Sitting Down to read King Lear once again', both written in January 1818. In King Lear (III.iv.41) Keats underscored and dated the text 'poore Tom' with 'Sunday Evening / Oct. 4 1818-'. Keats was nursing his brother Tom at the time, and he died later that year on 1 December 1818. 'Fanny' is written three times at the end of 'As You Like It' and dated 'April 17 1821'. The volume was with her in Heidelberg in 1848 when she met Thomas Medwin, and she kept the book until her death. Sir Charles Dilke purchased it from Fanny's son Herbert Lindon in 1873 after the death of his father, Louis Lindon.
In Fanny's next letter, written in July 1823, she also says that she can lend Fanny Keats 'the other volumes of Shakespeare' whenever she wants them, so the Brawnes may have possessed another edition of Shakespeare, perhaps similar to one that Charles Brown owned, which was in 37 volumes. Keats also owned an edition of Shakespeare in seven volumes, which is now in the Houghton Library at Harvard University.
'I have therefore sent you Spencer'
In May 1820 Keats wrote to Fanny Brawne, ''I have been employed in marking the most beautiful passages in Spenser, intending it for you.' Fanny Keats kept the book but lost it later when she was travelling in Germany.
'The serious poems of Byron'
This was perhaps a copy of Byron's 'Hours of Idleness', published in 1807.
'I send the Vampire'
John William Polidori's 'The Vampyre' first appeared in 1819 in the 'New Monthly Magazine' as 'A Tale by Lord Byron'. Polidori's name appeared in place of Byron's in later copies of the book after it was published the same year.
The first and second volumes of Don Juan
Cantos I and II of 'Don Juan' were published in July 1819, and cantos III, IV, and V were published in August 1821. The later cantos were published in 1823 and the final two cantos in 1824. Fanny Brawne appears to possess only the first two cantos. Perhaps she had forgotten that Fanny Keats had read Cantos I and II, and possibly III, IV, and V, because in her letter written either in November or December 1821 she asked:
'Don't you or do you admire Don Juan? perhaps you like the serious parts best but I having been credibly informed that Lord B. is not really a great poet, have taken a sort of dislike to him when serious and only adore him for his wit and humour. I am by no means a great poetry reader... Comedy of all sorts pleases me. I think Beppo nearly as good as Don Juan.'
'I send but one magazine'
Fanny Brawne was sending bound volumes of the 'London Magazine' (usually known as 'Baldwin's London Magazine'). Peter George Patmore's anonymous review of 'Endymion' appeared in the April 1820 issue in Volume 1 (January to June 1820). It was written in answer to the anonymous attack by John Wilson Croker on Keats's poem made in the April 1818 issue (published in September 1818) of the 'Quarterly Review'.
'the second magazine'
This was Volume 2 of the 'London Magazine' (July to December 1820). Fanny Brawne does not mention John Scott's favourable review of Keats's 'Lamia' volume, which appeared in the issue for September 1820.
'you will find in it all that occasioned the duel'
Fanny Brawne is presumably referring to John Scott's two articles which appeared in the November and December 1820 issues of Volume 2 of the 'London Magazine'. Scott attacked 'Blackwood's Edinburgh Magazine' for publishing viciously critical articles. One anonymous article in August 1818 by John Gibson Lockhart writing as 'Z', singled out Keats as a member of Leigh Hunt's 'Cockney School of Poetry'. Lockhart challenged Scott, but his friend J. H. Christie took his place in the duel. Patmore was Scott's second. The duel took place near Chalk Farm in London. Scott was wounded and died six weeks later.
'The articles called table talk are very good'
There were five articles by Hazlitt in the two volumes: 'On the Qualifications Necessary to Success in Life' in Volume 1, and 'On the Difference between Writing and Speaking', 'On the Conversation of Authors', 'On the Present State of Parliamentary Eloquence', and 'On the Pleasure of Painting' in Volume 2.
'those signed Elia are considered very beautiful'
There were also four articles by Elia (Charles Lamb) in Volume 2: 'Recollections of the South Sea House', 'Oxford in the Vacation', 'Christ's Hospital five and thirty Years ago' and 'The Two Races of Men'.
'tell me what you know of your brother George'
The last letter that Fanny Keats had received from George was sent in January 1822, but she only wrote to George much later, in 1824. The reason why she was reluctant to write to him is given in a note in 'The Keats Circle', edited by Hyder E. Rollins:
'[George] visited England in January, 1820.... Fanny Keats had not written because (like Charles Brown and William Haslam) she believed that George had taken advantage of John in money matters. Though Fanny Brawne had defended him as early as May 23, 1821, and though Fanny Keats did write before May 1824... it was was only in August, 1824, that Mrs. Dilke convinced his sister "that George is still and ever will be an honourable man." "I sincerely hate myself," Fanny added, "for having for an instant doubted it." None the less... she and George continued to have misunderstandings and doubts.'