The Square Mile: Future City
Date updated: 28/07/2023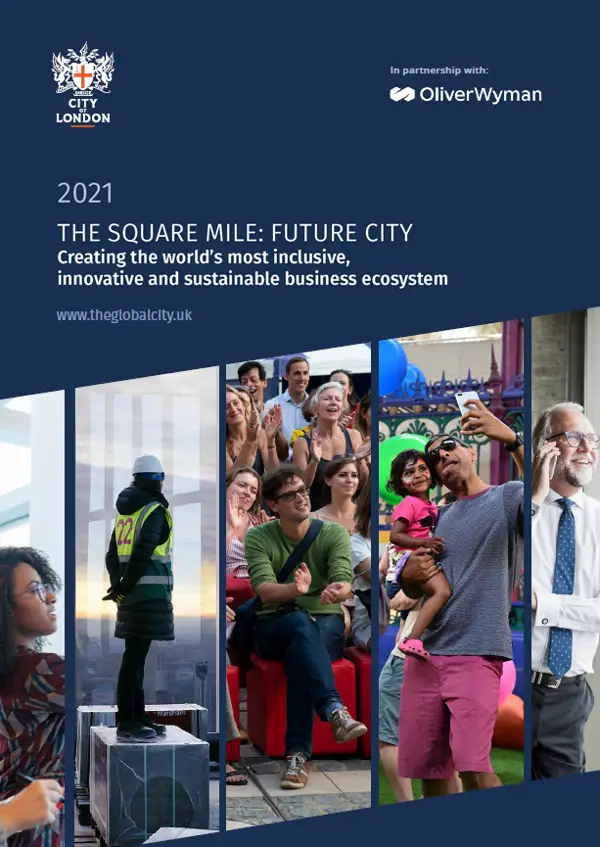 The Square Mile: Future City outlines plans to create the world's most inclusive, innovative and sustainable business ecosystem: an attractive place to invest, work, live and visit.
Economic and social trends are changing demands on urban centres. The Covid-19 pandemic has accelerated these trends. This City of London Corporation's five-year action plan will ensure the Square Mile offers:
a world class business ecosystem of thriving businesses, benefitting from unmatched innovation and growth opportunities.
a vibrant offer with exceptional retail, hospitality, culture, tourism and recreation opportunities.
outstanding environments including collaborative, flexible workspaces; safe, attractive public realm, and resilient, sustainable infrastructure.
These actions, taken with our partners, will contribute to a vibrant and thriving City, a diverse and sustainable London, and a globally-successful UK.
The City of London's Recovery Taskforce, with Oliver Wyman, consulted more than 4,500 members of the public, and 250 senior leaders to develop these recommendations.
The Square Mile: Future City Transcript PDF (53KB)
Date submitted: 26/10/22
The Square Mile: Future City PDF (5.6MB)
Date submitted: 26/04/21