Walking and running in Epping Forest
Date updated: 7/11/2023
Epping Forest has over 284km of paths and untold other trails across its 8000 acres, along with plenty to see and do. Whether you're looking to get out for a quiet walk or more rigorous exercise, we've got you covered.
Walking and running groups
Lots of groups hold regular walks and runs through the Forest - why not try one out?
Trails and routes
Short Walks in Epping Forest and the Official Epping Forest Map
You can find copies of our book, Short Walks in Epping Forest, as well as our Official Epping Forest Map to buy at our visitor centres in Chingford and High Beach.
Waymarked trails
The Forest also has ten waymarked trails to help you get out and about in the Forest. They:
have signposts, so you can find your way even if you've not walked it before
are circular, so you can start and end them anywhere along the trail
start and end conveniently close to parking and stations where possible
Waymarked trails to the Forest from Epping and Loughton Stations
We are grateful to Epping Forest Heritage Trust, Transport for London and the local councils to now provide a sign at Epping and Loughton Stations welcoming visitors to Epping Forest. Each sign is followed by a series of way markers which lead visitors into Epping Forest. This project was generously funded by the City Bridge Foundation.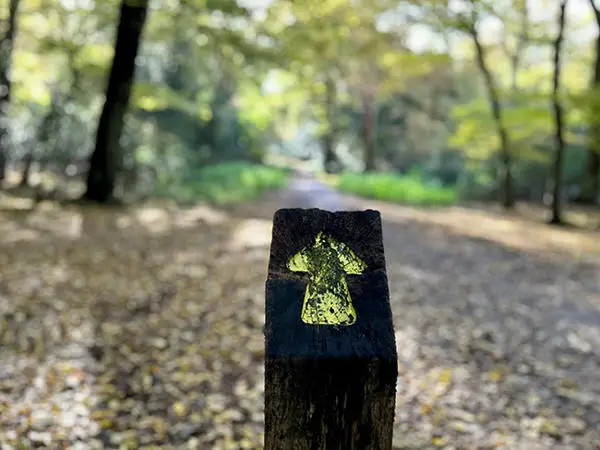 Beech trail PDF (590KB)
Date submitted: 20/11/19
Chestnut trail PDF (400KB)
Date submitted: 20/11/19
Gifford trail PDF (300KB)
Date submitted: 20/11/19
Golden Hill Trail PDF (2.8MB)
Date submitted: 14/12/22
Holly trail PDF (215KB)
Date submitted: 20/11/19
Hornbeam trail PDF (170KB)
Date submitted: 20/11/19
Lime trail PDF (650KB)
Date submitted: 20/11/19
Oak trail PDF (525KB)
Date submitted: 20/11/19
Rowan trail PDF (300KB)
Date submitted: 20/11/19
Willow trail PDF (220KB)
Date submitted: 20/11/19